Mayple is a platform that matches companies with top tier talents around the world for marketing services. Having worked with Mayple for over 3 years, K6 has risen again to the top with outstanding performance.
It's been now over 18 months that K6 has been created and we have already worked with over 135 brands in over 4 continents and 12 verticals. Our expertise of paid advertising has been recognized by many excellent companies that strive on our ability to collaborate, execute & truly help them grow.
What sets us apart as Facebook ads agency?
Being a marketing specialist really enhances our ability to deliver results on social media. We can say that in the realm of Facebook advertising we've tested anything technical, campaign structure or big picture strategy. Where our creativity has no bounds is in the realm of advertising angles, design & copywriting. As the Wizard of Ads says: "it's not about who you target, it's about what you write". In other words, the content of your marketing makes a big difference.
We've had the chance of creating a system that allows us to drive results for our clients and maintain stability. The biggest problem with inexperienced Facebook ads agencies or freelancers is that they might get a few lucky success but they won't be able to sustain growth over a long period of time. Our creativity has no limits and we always have ideas to break through ad spend & ROAS plateau's.
It's why we were named Top Paid Ads Expert by Mayple. Our understanding & guidance to businesses when it comes to paid advertising has unlocked a lot of growth for established businesses and startups around the world.

The most interesting thing is that our approach often combines paid advertising with a 360 marketing audit of our clients. The reason is that paid advertising is just about attracting clients but not closing the deal.
Why should you work with K6?
We definitely want to share our view of things, but let's get a few client of ours speak for themselves from Clutch.
"K6 Agency constantly provides innovative ideas and suggestions to improve performance."
"They have broad and deep experience in digital marketing, including fashion e-commerce."
"K6's most impressive qualities are their due diligence and detail."
In other words, our experience, constant innovative ideas and attention to detail is what sets us apart. These are qualities that every business owner should look for when hiring a marketing agency to work with but it's not always the case.
As part of our philosophy, we share, every week, new ideas to improve what we do because we believe success is the result of constantly innovating.
We also believe in being honest & truthful: we are not the best at everything. Our capacity to deliver strong results & have clients compliment our expertise is by working in industries where we previously had a lot of success.
We should also add that good marketing doesn't work without a strong attention to detail and an above-average due diligence when it comes to strategy. We spend a lot of time finding new ideas but even more time executing those ideas perfectly (even if it takes multiple rounds of feedback).
What we promise to new clients is the following: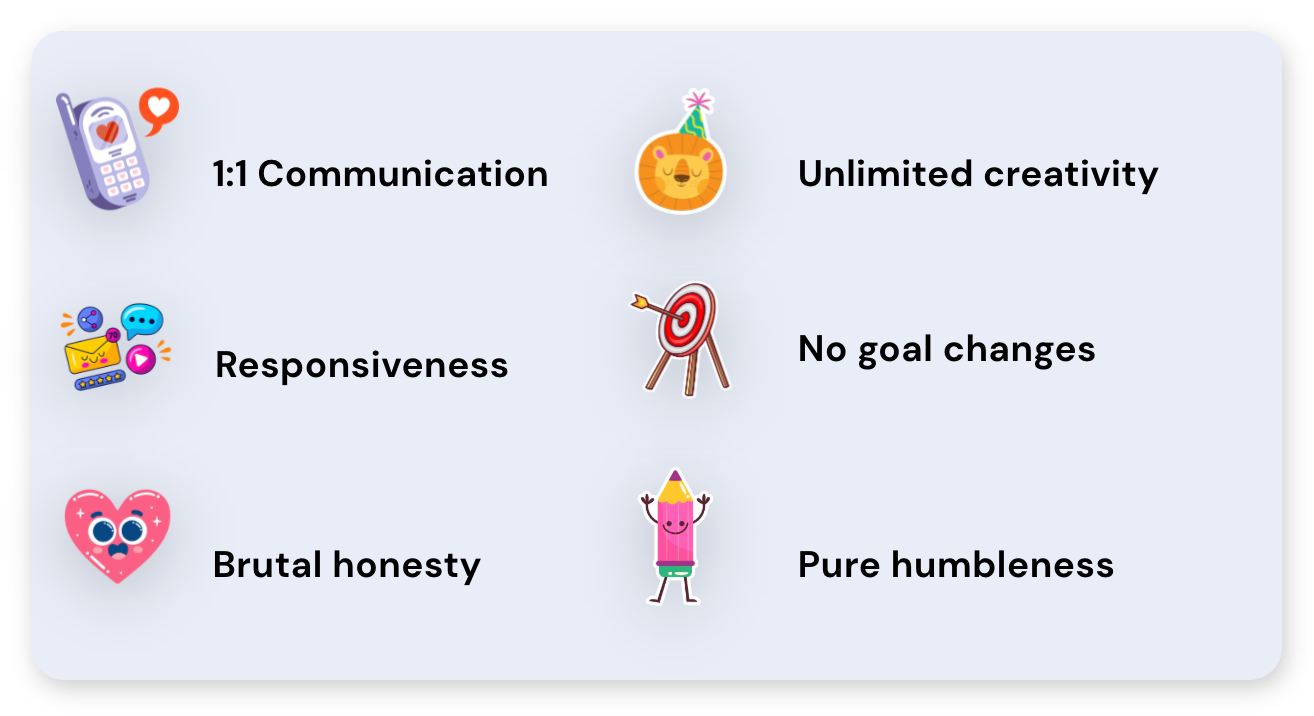 Let's quickly explain each point:
1:1 communication: making you feel like you are talking to one person who truly listens to your needs.
Responsiveness: being as responsive as possible to move things forward.
Brutal honesty: Brutally honest when it comes to helping you reach your goal.
Unlimited creativity: always bringing new ideas to improve what we do.
No goal changes: we aim for the moon and we learn if we don't reach the goal.
Pure humbleness: our goal is to generate results, not be right.
How can you work with us?
There are many ways to start working with us, here are the most popular one's:
Full ads management: you want us to fully manage your paid advertising from creatives to optimization.
Monthly consulting: you want to run your ads yourself but need our expertise to keep growing fast.
Ads optimization: you have a creative team but just need direction & management of the ads account.
Performance-based: you have a thriving brand and want us to stay highly motivated for your account.
In-depth audit: you feel stuck and you want a second pair of eyes to see the area's where you could grow.
What is our vision for the future?
We're here to help entrepreneurial spirits reach their highest potential through creativity. It's the only thing we care about. Obviously, like any company, we want to make more revenue but it's only to reinvest & hire more talented individuals to fulfill our mission.
There's a lot of power in creativity and we've explored the tip of the iceberg. We're excited for the future!