A career in marketing can be incredibly rewarding and fulfilling. Marketing is challenging, dynamic and requires constant creativity. There are a lot of path one can take – digital, traditional, agency or brand. From our experience, we wanted to share 6 awesome marketing career tips to help you reach your goals.
As technology evolves and new marketing strategy appear, the demand for skilled marketers is only growing. If you are looking for stability and job security, a marketing career can provide you just that. Before jumping in with both feet, we highly recommend you read this article.
Here are 6 helpful tips to make your marketing career a journey full of adventure helping you grow along the way.
Getting the right education
To pursue a career in marketing, it's important to get the right education. We highly recommend studying a field that will give you the foundational knowledge and skills in marketing. There are many marketing specialties to choose from. Colleges and universities offer various marketing-related degrees. There's no best specialty – you must pick the one you are interested in.
In addition to formal education, there are also many other training options available that can help you build your marketing skills. Online courses, workshops, and certifications can all help develop your knowledge and expertise in this field. For instance, you could do the Meta certification if you are interested in paid advertising.
Even you have some previous formal marketing education, we always recommend to never stop learning. You can also find online programs. From taking up a master's in marketing analytics online to pursuing a doctorate in marketing, we are sure you will find the right one.
Getting involved in the industry
Marketing is very dynamic – it's why we recommend continuously learning about the latest trends. You can do this by following marketing experts or softwares such as social media softwares. You can also attend conferences and talk to people who are currently working in that field.
By joining marketing conferences, you can learn about new strategies but also meet people from the industry. In our experience, those contacts stick around if you invest in them. Remember to talk to people on a human level – you aren't there hunting for a job. The other advantage is that you will be able to share the strategies you learned during interviews or talking to others.
Build your resume
Experience is everything in the marketing world. It's why we recommend you start building up your portfolio as soon as possible. There are many ways you can do this without having an official job. You can volunteer for local organizations or intern with a marketing agency. It will allow you to work on real-world projects and hone your skills while learning from experts.
Another great way to gain experience is by getting involved in freelance projects. There are plenty of opportunities out there if you know where to look. We recommend your find projects that inspire you to start gaining confidence in marketing
Find a mentor
Having a strong support system is also important for career success in marketing. One way to do this is by having someone who can guide you along the way like a mentor. Having a mentor gives you access to valuable advice and industry insight that can help shape your career path. Your mentor can also provide feedback on projects or ideas, give guidance when you're facing a difficult decision or even introduce you to potential employers or contacts.
You can even start building relationships with potential mentors online by following influential marketers on social media, joining online forums, or taking part in marketing Slack channels. It's always a good idea to reach out to people whose work you admire and see if they would be willing to mentor you. It takes time to find the right mentor because you need to connect but it's worth it.
Marketing career advice: stay focused
A successful marketing career requires passion, dedication and hard work. It's not something you can fake but you need explore what you really like about marketing. It means pushing yourself, trying new things and facing challenges head on. Collaboration is the foundation of marketing.
It's not always easy to keep your head in the game. As a marketing career advice, we recommend staying authentic to your roots. Take some time to develop yourself, build strong relationships, reflect on your progress and jump in new opportunities that spark your interest. While not always linear, you will never lose by exploring the realm of creativity.
Marketing career advice: build strong relationships
Building strong relationship is very important in marketing but also in business. You want to connect with other people in your industry. It will open up a world of potential opportunities, and make your work much more exciting than you thought.
There a lot of options to meet people. You can join professional associations, attend events and conferences, or even participate in online forums to expand your network. This will not only give you access to valuable resources, but it also gives potential employers a chance to get to know you. No need to be friends with everyone but try to make a few friends.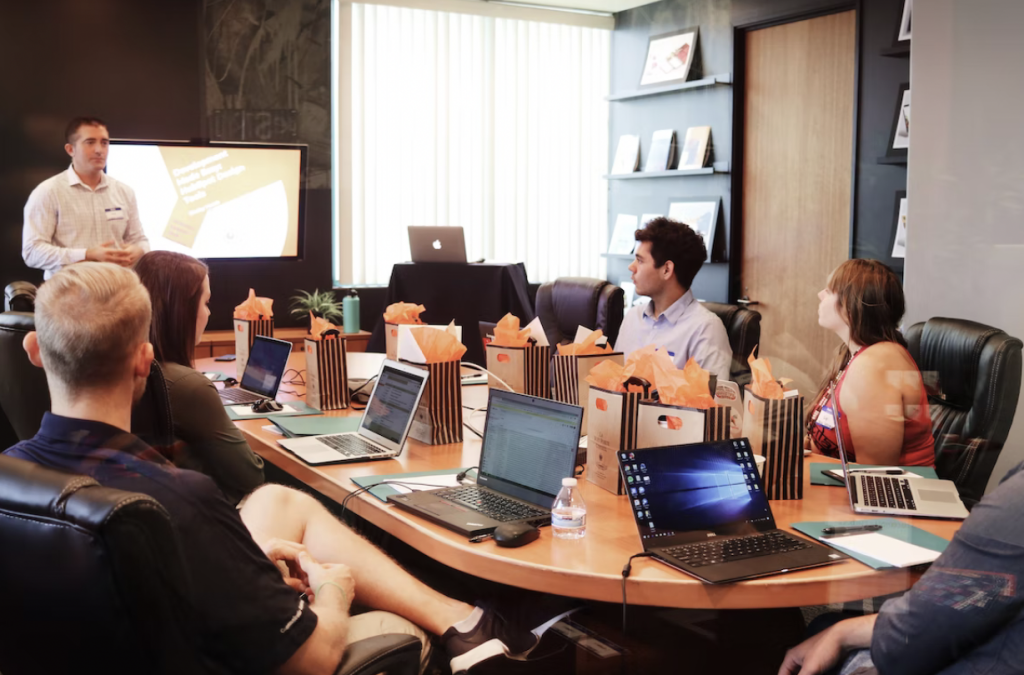 Starting a career in marketing is a beautiful adventure. You will learn to be creative, collaborate and understand human psychology. At the end of the day, you must create work you are proud of. It's the only way you will keep working in this game. Take a few of our marketing career advice and enjoy the ride!