TikTok has quickly become one of the world's biggest and hottest social platforms. Since its launch in 2016, its audience has grown to over 800 million active users worldwide. And it shows no signs of stopping. Its increasing popularity has grabbed the interest of big brands, and marketers are now looking at the fun app as a business opportunity.
Many people associate TikTok with teenagers. However, celebrities, influencers, and even political figures of all ages have joined the app as of recent. But how can a brand use this platform to market? What is TikTok, and how does it differ from Instagram, Facebook, or Snapchat?
In this guide, we'll teach you everything you need to know about TikTok before you begin to incorporate it into your marketing strategy. We'll go over what TikTok is, how to use it, and how you can use the app to market your brand. There's a lot to cover, so let's get started!
In this guide:
What is TikTok?
TikTok is essentially a video-sharing social network. For those who can recall, it's very similar to past viral apps Vine and Musical.ly. It started in China in 2016 but soon became international. As of January 2020, it became the most downloaded app in the world. Tiktok has a young audience with a majority of its users being Gen Z and millennials. But in recent months, people of all ages have found success on the app. It features a swipeable feed, similar to Instagram, with a variety of types of videos. Its most popular ones are usually some sort of trend; either a dancing, singing, or challenge video, like the one below:
So, if TikTok is just a video app, what makes it so special?
Well, unlike the other big video network on the internet (i.e. Youtube), TikTok caps its videos at one minute long. They're quick, easily consumable, and straight to the point. And users are still able to engage with content via comments, likes, and shares.
For younger people with shorter attention spans, or people who are always on-the-go, TikTok is a social network that they can tap into throughout the day. This makes it very valuable for marketers. Its short-video format means you're more likely to have the viewer's attention for the duration of your ad, allowing you to market effectively and efficiently.
How do I create a TikTok video?
So, now that we know what the app is all about, it's time to create a TikTok video. You will need your phone to record your footage and a way to edit video for tiktok.
As mentioned, TikTok only allows videos up to a minute long. When you're creating content for TikTok, you've got to make it brief, but interesting enough to keep viewer's attention. To create your first video, follow the steps below.
1. Download TikTok
The first step is (obviously) to download the app. It's available on the Apple App Store and Google Play. You can also access it via desktop, but its features are easier to use on mobile devices.
Simply search up "TikTok" in your app store and look for the app with this icon:
2. Record/upload a video
There are two ways for you to create TikTok videos.
The first is to record directly from the app. When you open TikTok up, there will be a little "+" sign at the bottom centre of the screen. Clicking this will bring you to the app's recording screen. Here's what that'll look like:
TikTok's in-app recording screen has tons of features to enhance your video. The first thing you'll have to do is choose if you want a maximum time of 15 or 60 seconds for your video. Then, move on to recording. The tools circled in red on the top-right of the recording screen are as follows:
Flip
This one is pretty easy. Clicking this button will allow you to switch between front and back camera. Decide whether you want to record a selfie video, or something in front of you.
Speed
The speed feature controls how fast your final video will be. The default is 1x, meaning your video will playback at a regular speed. Recording at 3x will cause your final product to playback three times faster than regular, and lower than 1 (e.g. 0.3x) will playback slower.
Beauty
This tool is an AR filter that gives you a little boost of self-esteem. Turning it on will give you an airbrushed look by smoothing out your skin and making you glow!
Filters
Similar to Instagram and VSCO filters, TikTok's filter feature allows you to choose from different camera filters that alter the way your video will look. They're categorized by what they're best used for: Portrait, Landscape, Food, and Vibe. You can swipe through to preview each one.
Timer
The timer tool helps with hands-free filming. You can use it to set a 3 or 10-second countdown, after which it'll automatically start recording. You can also use it to set a specific amount of time to record before automatically stopping.
Another feature in TikTok's recording screen is Sounds, located top and centre of the screen, which you can use to add music or popular sounds to your video. Finally, clicking on the Effects icon will bring up all of TikTok's visual effects. These can be used to create really cool and original content, but you'll need to sift through a few of them to figure out which one makes your video most effective.
Tip: Check out TikTok creator @jera.bean for easy-to-follow TikTok tutorials. She guides you through recreating popular trends and using different effects that can be difficult to figure out on your own.
The second way to create a TikTok video is by uploading a pre-recorded video. Opposite the Effects icon, on the right side of the red record button is an Upload button that you can click to open up your Camera Roll. Choosing a video will bring you to a video editing screen. From here, you can add text and stickers. You can also upload pictures and create a slideshow with TikTok Templates.
Note: Using the Upload function allows for external editing on video-editing apps, but some of the features of TikTok are only usable when you record from within the app.
3. Caption and Cover
Now that you've recorded/uploaded a video, it's time to write a caption and choose a cover.
There is a maximum of 150 characters for TikTok captions. This includes hashtags, so make sure to keep it short and sweet. Just like Instagram, use hashtags that are relevant, but not too vague that your video gets lost in a sea of other TikToks.
Note: Once you've published your video, you won't be able to edit the caption. Read over it twice to avoid mistakes!
Next, you'll choose a cover image for your TikTok. This is the image that will be featured on your profile and throughout the app as a thumbnail, just like on Youtube. Try to choose a part of your video that's really interesting to ensure people click on it!
4. Post!
The final step is to post! You can link Instagram to your TikTok account so that you're able to share new TikToks directly through the app. You can also copy the link to your TikTok to share it via text or messenger.
If you're still in the process of editing, or you're unsure of your final product, you can also save it to your drafts and post it later.
Why should I be using TikTok to market?
Now that we know the basics, it's time to move onto why TikTok will be useful for your brand.
If your target audience is young people, then TikTok is quite possibly your best bet for leads and conversions. And even if you have an older demographic, TikTok is a great way to expand your audience to the younger generation.
TikTok is a huge part of the rise of social media marketing. Traditional tv commercials aren't as useful because of Netflix, and ad-blocking extensions make internet ads unproductive. On the other hand, the average usage time for TikTok is 52 minutes a day, which is a lot of time for users to be exposed to at least one or two brands.
TikTok's popularity cannot be ignored. Even established companies like HBO and The Washington Post realize its value and are using the app to maximize their audience.
With as many users and as much growth as it's seeing, TikTok could be the biggest social platform for years and years to come. Beginners and experts alike use tools to grow their TikTok accounts, for more information read this article: 10 Best TikTok Bots and Growth Services. So it's important to start incorporating it into your brand's marketing strategy as soon as possible!
How can I successfully market on TikTok?
If you're new to TikTok, it can be a little overwhelming. Here are some tips to help you successfully incorporate TikTok into your marketing strategy:
Get Trendy
TikTok is known for its trends. According to TikTok experts, the best way to increase brand awareness is by hopping on the most recent trend and using a trend hashtag to get your content seen. Or, you can have a go at creating your own trend linked to your brand for maximum exposure.
For example, Mexican restaurant chain Chipotle created a #GuacDance challenge that went viral on TikTok. Their TikTok account now has over 1 million followers and over 20 million video likes.
Partner with Influencers
Just like other social media apps, the influencer presence on TikTok is huge. Partnering with a TikTok influencer to create advertisements is a great way to increase brand awareness and generate leads. In most cases, people are more likely to trust a brand that their favourite influencer uses. In the example below, activewear brand Gymshark partnered with @twinmelody, a TikTok account run by two twins with over 14 million followers and 340 million video likes.
Engage with Users
Engagement is a two-way street. Posting awesome content for your brand followers is important, but liking comments and commenting back should be a priority, too. You can even comment on other trending videos to create conversations and foster relationships with users.
In fact, according to the latest TikTok Statistics, an average account with 1,000 followers should get an engagement rate of above 9%.
TikTok Analytics
If you're looking to seriously grow on the TikTok platform, purchasing a Pro account is a good idea. You can do this by going to your profile, clicking on the three dots in the upper right corner, and clicking on "Manage my account". There will be an option to "Switch to Pro Account".
On TikTok Pro accounts, you'll be able to access TikTok Analytics: metrics that will help you create the best content for your brand. After switching to Pro, you'll find a tab for Analytics right under your Account tab. In Analytics, you'll see three tabs.
The Overview tab will show you Video Views, Followers, and Profile Views over the last 7 or 28 days. It's basically a quick run-down of how your brand account has been doing.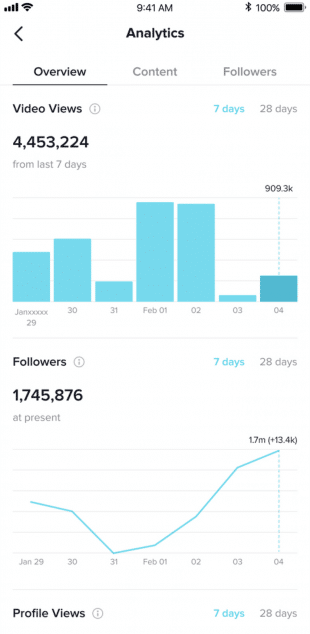 The Content tab will show you which of your videos are trending. Clicking on specific videos will show you the amount of likes, comments, shares, and traffic the video has accumulated, as well as other metrics. Use this tab to see which videos are successful so you can replicate the techniques you used in them in the future.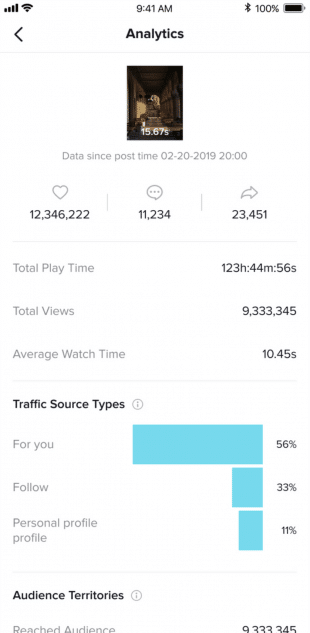 Lastly, the Followers tab will give you information on your audience. You'll learn viewer demographic statistics, the time and day your followers are most active, other videos your followers watch, and more.
For a more in-depth guide on how to use TikTok Analytics, take a look at this article by Hootsuite.
Conclusion
Incorporating TikTok into your marketing strategy can be a daunting task. But hopefully, with this guide, you'll be able to create content that gets your brand seen. Don't be afraid to try different things; TikTok is a relatively new app, and most marketers are figuring things out as they go.
For more help with TikTok and all other things social media, you can contact us here at K6. We're pretty experienced in figuring these things out ?