Knowing how to market in the real world is one thing. But marketing on Instagram is a completely different universe, one that many businesses don't have the right marketing tools to conquer. From tracking analytics to posting original content, and everything in between—there are so many aspects to creating a presence on Instagram. Sometimes, things can get tough to manage all on your own.
Luckily for you, there are thousands of marketing tools that are available for you to use that can take care of a majority of the work. In this article, we'll give you a list of tools that you'll definitely want to make use of if you're marketing or advertising on Instagram. We've even categorized them so you can find exactly what you're looking for with a quick click of a button. You'll also find a price point for each of the marketing tools so you can quickly determine if it's within your business budget.
At K6, we're always looking for ways to make marketing easier. And we love to share all of our findings with you because we're just that nice. ?
So, let's get started!
In this article, you'll find marketing tools for:
Tools for analytics
Creating and posting content on Instagram is great, but it won't be of much use if you aren't tracking your Instagram analytics. You probably already know how to use Instagram Insights to gather data. But if you're searching for extra methods of tracking your audience, we've got some tools to show you. And we know that numbers and charts can be difficult, so don't worry. All of these apps are super easy to use, K6 approved!
1. Social Rank
Overview: Extensive analysis tool that sorts and filters your Instagram audience to help you understand them better.
Social Rank is an analysis tool that helps you to better understand your audience on Instagram. It offers a variety of sorting, filtering, and engagement tools that make it easy to manage different profiles in your following. If you've ever wondered who the biggest influencer or the most engaged follower is on your Instagram account, this is the marketing tool for you.
With the sorting tool, you can sort your audience into categories such as Most Valuable and Most Engaged. The filtering tool allows you to look at basic demographics, such as geographic location. But there are also specific social media filters, such as bio keywords or hashtag searches that are popular amongst your audience. You can use this information to optimize your content, or to reach new audiences that are similar to yours.
If you've got tough competitors on Instagram, Social Rank has a feature for that, too. You can compare your following to your competitors and see who is following them, but not you. Maybe there's a certain niche of users that your competitor has successfully tapped into, but you had no idea about.
And after you've gathered all this data about your followers, Social Rank allows you to export lists to save this information for future use. So, there's no need to break out Excel—Social Rank does that job for you.
Price: Plans starting from $24/month
Website: www.socialrank.com
2. Social Blade
Overview: Quick way to see follower growth for a business account.
This is a quick-and-easy Instagram tool for businesses to find out stats on follower growth. All you need to do is enter your Instagram business handle in Social Blade's search bar, and it'll pull up a sheet of statistics, including a day-to-day summary of your follower growth over the last two weeks. The picture below is an example, displaying the following trends for Instagram's own account (@instagram).
This is a great Instagram tool, but it's also functional with many other social media platforms (Youtube, Twitter, TikTok, Facebook, etc.) You can use it to search up any business/creator account. And the best part is, it's completely free!
Price: Free
Website: www.socialblade.com
3. Iconosquare
Overview: An all-around analytics tool that offers insight into every part of Instagram.
If you're looking for a complete Instagram tool that will help you monitor your Instagram account performance, Iconosquare is the way to go. It's quite popular amongst big Instagram accounts, such as Gucci, Samsung, and Emirates, due to its reliability as an official Instagram partner. This marketing tool offers insight into your followers, engagement, reach, and impressions through easy-to-read graphs that will give you what you need for optimization. It even offers in-depth analytics on other Instagram features, such as Stories, tags, and mentions. Basically, if it's on Instagram, Iconosquare can track it.
Iconosquare is great for monitoring things like which posts win your business the most engagement, and what times are best for posting. And here's something that is unique to Iconosquare: if you're looking to dip your toes into influencer marketing, Iconosquare will actually suggest influencers that align with your brand!
We haven't touched on even half of the many features available on Iconosquare. So if you're looking for something that can do it all, this marketing tool is probably your best bet.
Price: Plans starting at $29/month, with a two-week free trial
Website: www.pro.iconosquare.com
Marketing Tools for hashtags
You may think you have hashtags all figured out. After hours of testing different hashtags, you're convinced you've found the best ones for your content and brand. But our list of hashtag generator tools will prove that you're missing out on a ton of hashtag opportunities. Using hashtags is an essential part of being seen on Instagram. So to come up with relevant, unique hashtags for your content, use these marketing tools.
4. MetaHashtags
Overview: Generate relevant hashtags and avoid banned hashtags.
Most marketers are familiar with "hashtag block": trying to come up with similar, relevant hashtags to ones you've already had success with, but coming up with zilch. Because how many relevant hashtags could there really be for #marketingtools? Well, if you need help generating related hashtags, this is a great tool to use.
With this tool, not only can you find relevant hashtags, but you can also track the number of posts under a hashtag, the amount of posts per hour, and the average number of likes on the hashtag's top post. This way, you can find a hashtag that is popular, but not too popular that your post gets lost within it.
The site even provides a list of banned hashtags: those that Instagram has permanently blocked. You'll want to avoid using these to make sure your account does not get shadowbanned. And banned hashtags are probably more common than you think—did you know, the hashtags #always and #cardib are blocked? (We didn't!)
Price: Free
Website: www.metahashtags.com
5. Display Purposes
Overview: Simple generator tool that filters out spam tags.
Once you start to use this hashtag generator, we promise, you won't turn back.
Display Purposes is a super easy marketing tool to generate relevant hashtags without having to take spam hashtags out yourself. It automatically filters out all the unwanted, banned, and spammy hashtags. All you have to do is enter a tag into the search bar. If you have two tags that you want to find relevant hashtags for, type them both in—Display Purposes can generate related hashtags for several different words/phrases at a time. Then, all you have to do is copy and paste the hashtags into your caption/comment. You can also set a limit to the amount of hashtags the site generates to avoid using too many.
Price: Free
Website: www.displaypurposes.com
6. AutoHash
Overview: Uses computer vision algorithms to suggest the best hashtags for your photo.
We understand that putting your perfectly-captured photo into effective hashtags can be a difficult task. Which is why we added this tool to our list of marketing tools.
AutoHash is a cool marketing tool that generates relevant hashtags for any photo. You simply upload a picture into the app, let it work its photo-analyzing magic, and then receive your list of relevant hashtags on a silver platter. It also has the ability to generate location-based hashtags if you turn on GPS.
Price: Free
Link: AutoHash
Tools for editing photos and videos
Creating eye-catching, original posts for your Instagram feed is a sure-fire way to attract new audiences and keep current audiences interested. But not every business team has a graphic designer, artist, photographer, or videographer on-hand. That's where these tools come in: they'll have you producing expert creatives in no time.
7. Unfold
Overview: Templates for dynamic, unique Instagram Stories.
Unfold is an easy-to-use app that features hundreds of templates for creating captivating Instagram Stories. The templates come in a variety of styles, so you can find one that aligns well with your brand. From film, to digital, to minimal templates, there's something for every brand to use.
Using Unfold is pretty straight-forward. Just pick a template based on style and number of photos, choose the photos you want to upload, and then add any extras: stickers, texts, borders, etc. The app allows you to create multiple pages at once. This way, you can export them once you're all done, upload them to your Instagram, and create a clean, streamlined story for your viewers. This is a great marketing tool to have in your belt!
Price: Free, with some templates requiring purchase
Website: www.unfold.com
8. Adobe Lightroom Mobile
Overview: All the greatness of Adobe Lightroom, but for mobile devices.
Did you know that Adobe offers a mobile version of Lightroom that's almost completely free? Lightroom mobile offers many of the features available on Lightroom for desktop, without the hefty cost. You can edit images like a pro without having to navigate the interface of Lightroom on desktop. And many influencers, artists, creators, and other experts offer free Lightroom presets, readily available for you to use. Presets are pre-constructed settings that apply like a filter. You can use presets to give your images a consistent look, which will, in turn, make your Instagram feed very aesthetically pleasing.
If you're interested in learning more, here's a tutorial on using Lightroom for mobile.
Price: Free, with some in-app purchases
Link: Adobe Lightroom Mobile
9. VSCO
Overview: Easy app for aesthetic photo filters.
If you're totally inexperienced with photo-editing, VSCO may be the tool for you. It offers preset filters that aren't too intense so that you can easily edit your photos without overdoing it. It also has a Discover feature that lets you view other creatives produced by users via VSCO, to provide inspiration for your next project.
VSCO also has a cool community of creators. If you're looking for a place to take a break from Instagram, but still share photos, then VSCO is the place to be. The community is free of comments, ads, and follower counts, allowing for stress-free creativity.
Price: Free, with the option to purchase a membership
Website: www.vsco.co
10. Prequel
Overview: Video-editing mobile app for trendy filters and effects.
Prequel is the marketing tool to use when editing videos for social media. It offers a wide range of filters and effects that will really make your videos stand out on Instagram. Choose from more simple effects that alter the colour and tone of your video to targeted filters, such as a "Stay At Home" one during quarantine. The possibilities are endless with Prequel, and it'll have you editing videos like a pro, right from your phone!
Price: Free, with some filters/effects available only with purchase
Website: www.prequel.app
11. Canva
Overview: Wide range of customizable templates for creating professional-looking graphics.
Canva is a super popular app amongst creators on Instagram. It has thousands (literally thousands and thousands) of easily customizable templates for just about anything: posts, stories, interactive content, etc. It's way more than just a photo/video editing app; if you want to create something from scratch, Canva is the best marketing tool you could use. It even has templates for logos, headers, infographics, and posters! It's basically a marketer's creative toolkit, providing everything you need to make stunning images for your brand.
Price: Free, $16.99 for Canva Pro
Website: www.canva.com
12. A Color Story
Overview: An app that suggests filters and presets based on your chosen theme colour.
If you've got a theme colour that is consistent across all of your brand channels, then this marketing tool can really help you stay true to your image. A Color Story is an app that does all the basics of a photo-editing app, offering tools such as curve, brightness, and contrast. But it's unique thanks to its ability to suggest filters, presets, and photo settings based on a colour of your choosing, namely, your brand colour.
Their website also offers lots of tutorials for taking photos and using filters. It's a great starting place for beginners in the world of editing.
Price: Free
Website: www.acolorstory.com
13. Boomerang for Instagram
Overview: Cool, mini videos for sharing as a post or story.
If you've been on Instagram long enough, you've probably seen your fair share of Boomerangs. They're those short, mini videos that look sort of like stop-motion. Basically, Boomerang captures 10 photos burst-style and then joins them together to form a video that loops like a GIF. It's a style of video that is great for showing personality and fun on your Instagram business account!
Price: Free
Link: Boomerang
14. Magisto
Overview: A video-editing app that does all the hard work for you.
If you don't have the time to play around with video-editing tools, then Magisto is the perfect marketing tool for you. It's pretty simple: just upload your video clips into the app, choose a video style, select your music, and then sit back and let Magisto do all the work. It'll create a captivating video, complete with effects, transitions, and other edits that's ready to upload straight to Instagram. It literally does not get any easier than this.
Price: Plans starting at $4.99/month
Website: www.magisto.com
Side Note – The size of images has always been an issue for marketers, as the online platforms impose a restriction on uploading pictures of a certain size. This image compressor tool resolves the problem by reducing an uploaded image's size without affecting its quality. You can use this tool to compress as many pictures as you want without facing any restrictions or paying a penny.
Tools for scheduling/planning
Manually uploading your Instagram posts on a consistent schedule can become a draining task. With these marketing tools, you can schedule your posts ahead of time to ensure you are posting consistently without having to be on the app all the time. They also allow you to plan out your Instagram feed visually, so that your profile looks neat and professional.
15. Planoly
Overview: Plan and schedule content for Instagram and other social media accounts.
Planoly is an app that you can use to organize your Instagram posting schedule. Executing your social media strategy is easy and manageable with this tool. For one thing, it shows you a calendar of your planned posts so you can see open slots in your posting schedule. It also gives you a visual preview of your feed with photos that you plan on uploading.
Planoly is great to use with Instagram, as it is an official Instagram partner. But it's also functional with Pinterest, Twitter, and Facebook, so if your business is on these platforms, you can manage everything with one marketing tool.
Price: Free, with purchasable plans
Website: www.planoly.com
16. Hootsuite
Overview: Schedule posts through their easy publisher.
Hootsuite is a tool that could also fall under analytics, as it is capable of monitoring and analyzing your performance on social media. But we love it for scheduling posts. Hootsuite has a built-in Planner that gives you an overview of all your planned content so you can fill in gaps and map out your strategy. It's also a great tool for remote teams, because it allows for easy collaboration. You can share your Hootsuite profile with your team to allow multiple people to view the campaign plan.

Price: Plans starting at $29/month
Website: www.hootsuite.com
17. Plann
Overview: A powerful social media scheduling tool.
Like its name suggests, this tool is great for planning posts and stories on Instagram. It features a drag-and-drop workspace that allows you to plan out your feed, and then schedule posts for a certain day and time.
Plann actually combines a lot of the marketing tools we've mentioned so far. It is a scheduling tool, but it also offers analytics and image-editing. And just like Hootsuite, it allows for collaboration amongst teams! We're all for teamwork at K6.
Price: Free, with premium plans starting at $7/month
Website: www.plannthat.com
18. Loomly
Overview: A great alternative to Hootsuite.
This marketing tool prides itself in being a competitive alternative to Hootsuite. It provides analytics and scheduling, just like many of the apps under this category, but it does a lot more. Loomly's Library feature organizes all your content (e.g. photos, graphics, templates) in one place. It also offers inspiration in the form of post ideas based on trending topics and holidays. And if that's not enough, Loomly gives you optimization tips based on your social media performance. All of these features packaged into easy-to-use software means Loomly is super useful, even for beginner marketers.
Price: Plans starting at $25/month
Website: www.loomly.com
19. SocialBee
SocialBee is a versatile social media management tool that allows users to plan, publish, create, and analyze content for their profiles. The platform doesn't restrict you to a single social media platform either. You can post on any major social media platform, including Instagram. In fact, SocialBee even provides a trick that allows you to create an Instagram post and customize it for each profile.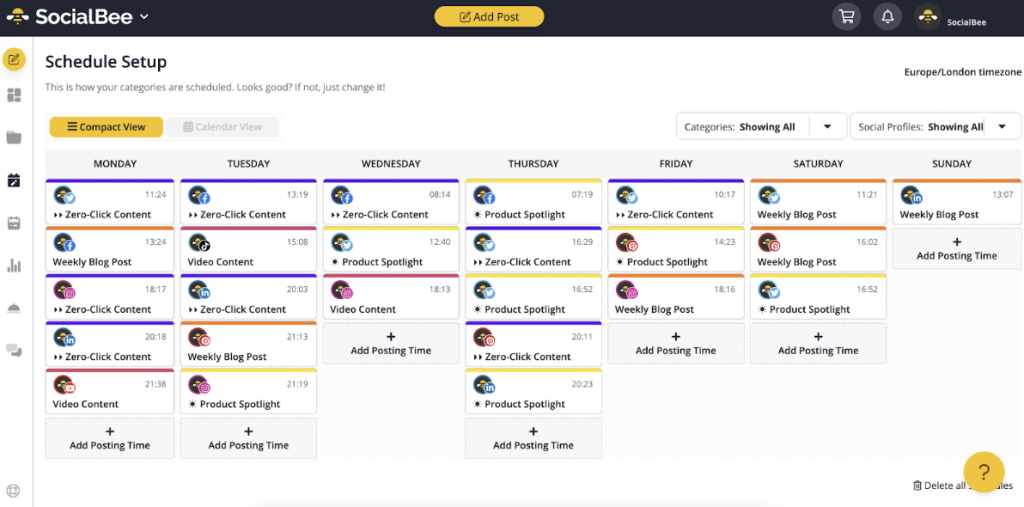 Inside SocialBee, you can create a balanced content mix by utilizing categories to organize your posts into multiple different 'thematic folders'. When it comes to planning your content, the tool provides a preview of your upcoming posts and even offers a grid preview to help you visualize your feed.
Scheduling alone is not the only functionality that SocialBee offers. With SocialBee, you can create visuals using platforms such as Canva, Unsplash, and Giphy, all directly within the SocialBee interface. Additionally, SocialBee's AI Assistant can generate images and captions to further streamline your content creation process.
Price: Plans start at $29 per month with a 14-day free trial includedWebsite: https://socialbee.com/
Marketing Tools for User-Generated Content
There may come a time in your Instagram career where you'll have to gather User-Generated Content (UGC) for your brand. It may be for a contest, or for reposting purposes. But rather than manually search and gather posts on Instagram, which could take hours and hours of work and effort, you can use these marketing tools to do the work for you.
20. Shortstack
Overview: Gather all user-generated content for Instagram contests.
Hosting contests on your Instagram account can be a rewarding marketing strategy. But the thought of collecting thousands of entries is something that can put off any marketer. Thankfully, tools like Shortstack exist to take care of Instagram contests for you.
Whenever you host a contest, Shortstack will look for the necessary requirements (e.g. a tagged branded hashtag, a mention of your Instagram handle) and collect all the entries in its system. Then, you can use its random entry selector to choose the winner of your contest and announce it on Instagram!
Price: Plans starting at $99/month, free trial available
Website: www.shortstack.com/instagram/
21. Wyng
Overview: Find UGC easily and export it for your own use.
Wyng is similar to Shortstack as it finds all of the content in a branded hashtag or with a specific mention and exports it, giving you the rights to the content. Again, this tool is great for running contests on Instagram, especially for bigger enterprises.
Price: Contact for pricing
Website: www.help.wyng.com/s/
Extra Marketing Tools
Finally, here are some extra awesome marketing tools that we just couldn't leave out!
WordSwag
If you like to share quotes, sayings, or other text on your Instagram, we recommend using this app. It turns your text into a beautiful design that will be sure to capture the attention of idle Instagram scrollers.
Price: Free, $4.99 for WordSwag Pro
Website: www.wordswag.co
Lapse It
Have you ever tried taking time-lapse videos? They're a cool way to capture an event that lasts over a long period of time; perhaps, the making of a product, or the set-up of a studio. Many phones have a time-lapse option in their built-in Camera app, but Lapse It offers valuable tools for editing your lapse video. It's a cool tool to experiment with!
Price: Free
Website: www.lapseit.com
Pablo
Pablo is a creative app by Buffer. It features thousands of images and fonts that can help you create stunning visuals for your social media accounts. There are templates for promotions, quotes, and even outreach, making it easy to create something that suits your needs.
Price: Free
Website: www.pablo.buffer.com
Unscripted
Here's a tool for all the marketers that double as photographers. Unscripted is an app that not only offers unique filters, but also presents pose ideas for different shoots you can have for Instagram. It's great for small businesses that do all the branding themselves: photography, editing, and posting. You. can make your photos look super professional just by following the guides in this app.
Price: Free, with some features requiring purchase
Website: www.unscriptedposingapp.com
Contentstudio.io
ContentStudio is your one-stop-shop for all of your social media planning, analyzing, managing, and scheduling needs. The single platform allows you to work with various social media sites and includes a variety of tools and features you can use to successfully market your content. Contentstudio has integrated design features such as Canva and Crello to create eye-catching content without the use of a third-party designing tool. Another cool feature of ContentStudio is it's new AI-powered caption generator which uses relevant keywords and social media-optimized SEO for captions — which means less time struggling for the right words for your social media caption!
Price: starts at $49/month for Solo Marketer plan
Website: contentstudio.io
Final Thoughts
Instagram is essential to every marketing strategy. And with these marketing tools, you can elevate your Instagram account to the next level of engagement, consistency, and creativity.
But if you're a little lost, don't worry! At K6, we've mastered these tools, and have tons of other tricks and tips up our sleeves. Reach out to us for help with Instagram marketing and more.