Instagram ads are in a league all their own. Since the platform is so different from Facebook, you might feel stuck trying to find Instagram ad example inspiration. As a highly visual platform, Instagram allows you to be really creative with your ads. However, it can be tough to know where to start with so many possibilities. Instagram's audience is made up of over 1 billion monthly active users, so it's important to nail down your ad strategy.

Fear not, we're sharing some of our favourite Instagram ad examples with you and providing you with some actionable tips to help you generate huge growth with your own Instagram ads.
Here at K6, we have tons of experience with Instagram ads and even more with Instagram ad examples. Don't hesitate to reach out to us if you need any help. Also, if you like this article, we recommend checking out our other articles on Facebook ad examples and LinkedIn ad examples.
Let's get into it!
1. The New Yorker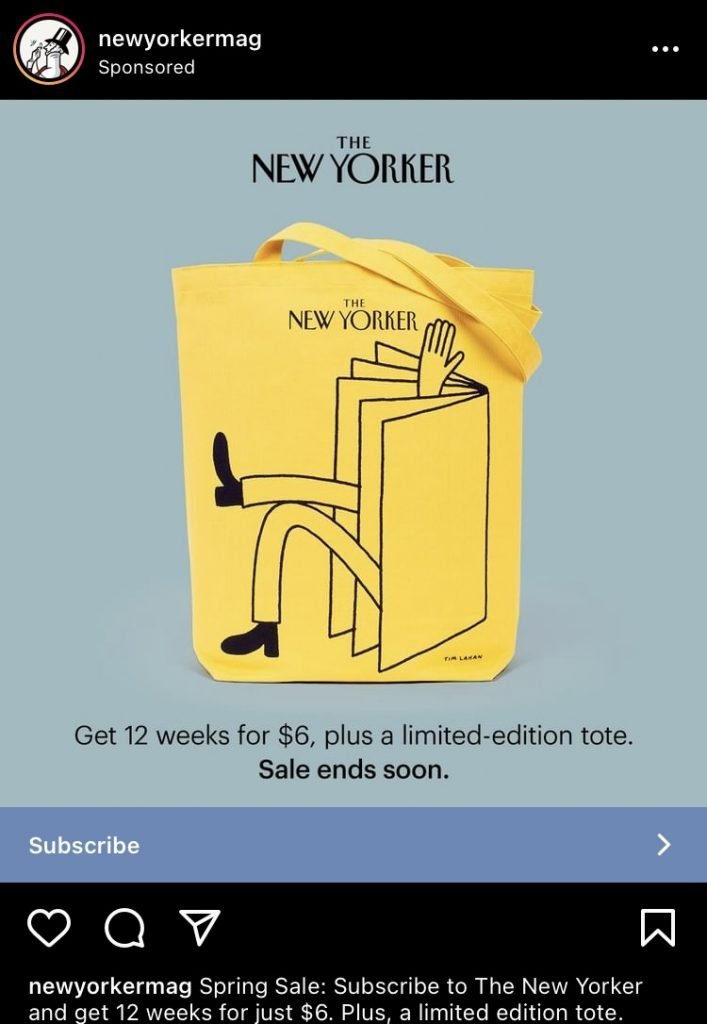 This ad from The New Yorker is a great addition to our Instagram ad examples list because of their use of a freebie. Even more enticing is their choice of copy – adding a "limited-edition" caveat to a product makes it instantly more coveted. It's a great way to highlight the products and add a sense of urgency to checking them out… people don't want to miss out on an exclusive product.
Bright colours also work well in this ad. The yellow is super noticeable and draws attention to the bag, as it stands out in contrast against the blue background.
2. Febreze
Febreze shows off their new Light line of scents by making them appear to be floating. We love this Instagram ad example because it really illustrates the message of the ad.
Their choice of copy highlights "no heavy perfumes", and the motion plays with that idea in a fun and creative way. They've also used consistent colours to communicate the scents and feelings they're trying to evoke with their sprays and products.
3. Adobe Creative Cloud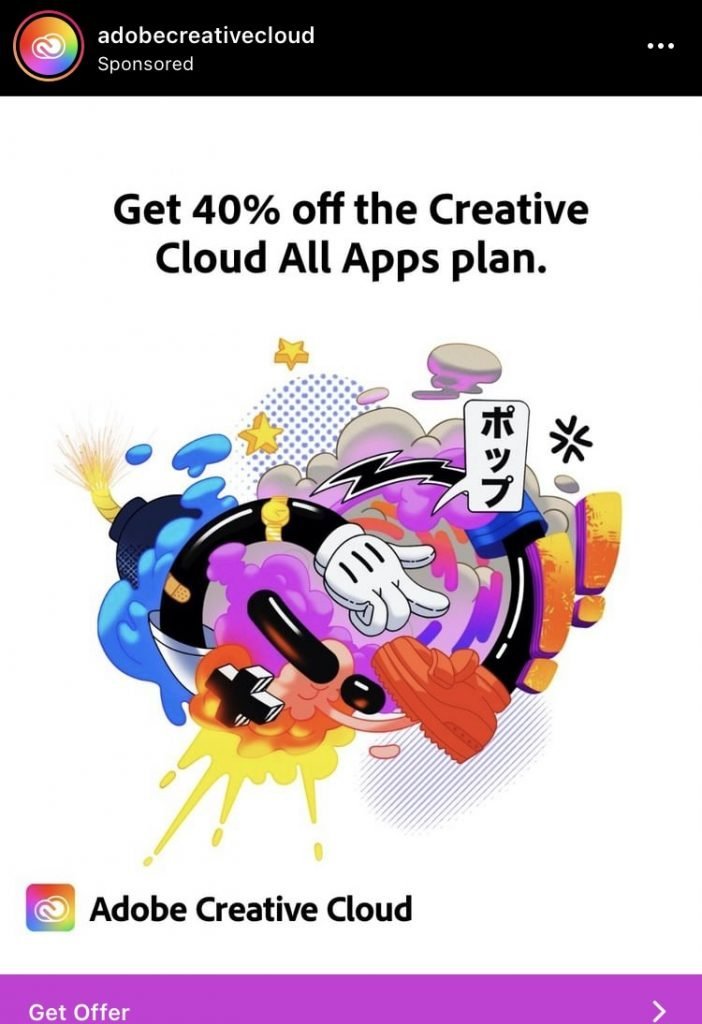 A dynamic and creative design is what you'd expect from an Adobe ad, and they definitely deliver. This works so well because it shows the possibilities of what you can creative using the Adobe Creative Cloud. They've chosen bright colours to contrast against the stark white background, as well as the Instagram feed (as long as you're not in dark mode like me… whoops!).
What's more, they're offering a super deal in this ad. In simple terms, the ad copy makes it clear that this is a great offer. Specifying a percentage off or $ amount saved is a good way to get your ad noticed. It's great to say you have a deal, but it's even better to tell customers how much they'll save.
4. Dispatch Coffee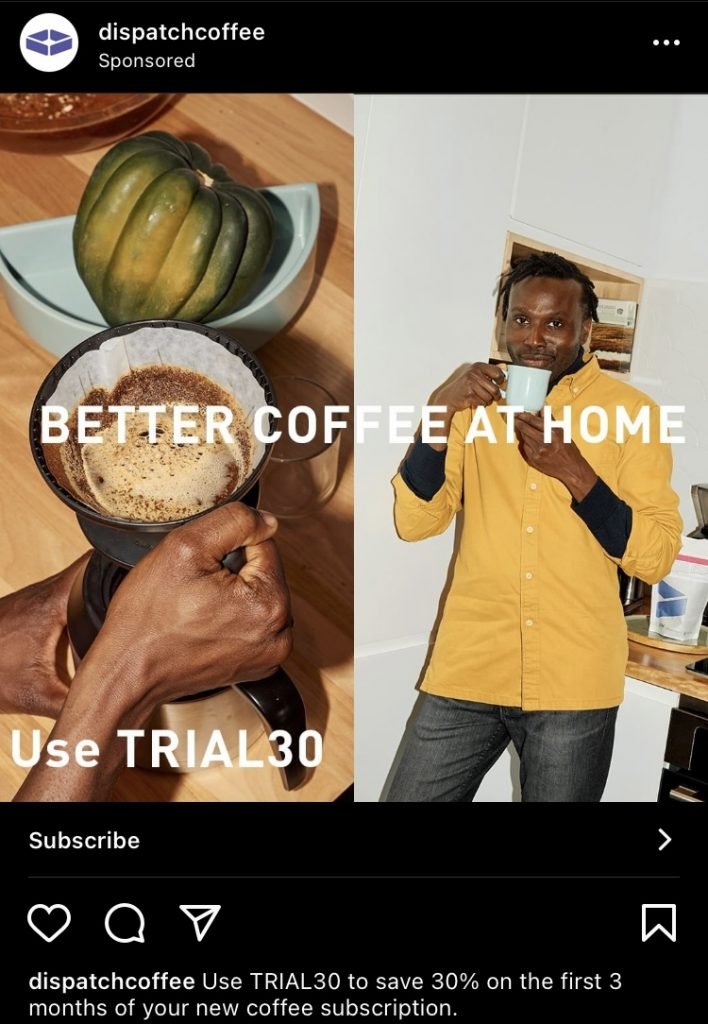 How does it get any better than a fresh cup of coffee brewing in the morning? We love this Instagram ad because it's simple but highly effective. Dispatch Coffee does a great job of making us want to start up the kettle by using high quality imagery.
The copy is clear and to the point and they offer a high value discount code to try their subscription services. Coupon codes are an excellent way to convince new customers to come aboard. Additionally, the product that they're selling is a subscription. That's another great way to turn first-time purchasers into loyal customers.
5. The Fab Story
People love interactive posts and quizes, and The Fab Story has taken advantage of that by creating a fun test for users to consider. This is a great way to get users to stop and think. They might consider their own needs and realize that your services can really help them.
Another great way to grab an audience's attention is through colour. Look for high contrast colours that make your message stand out.
6. Good Food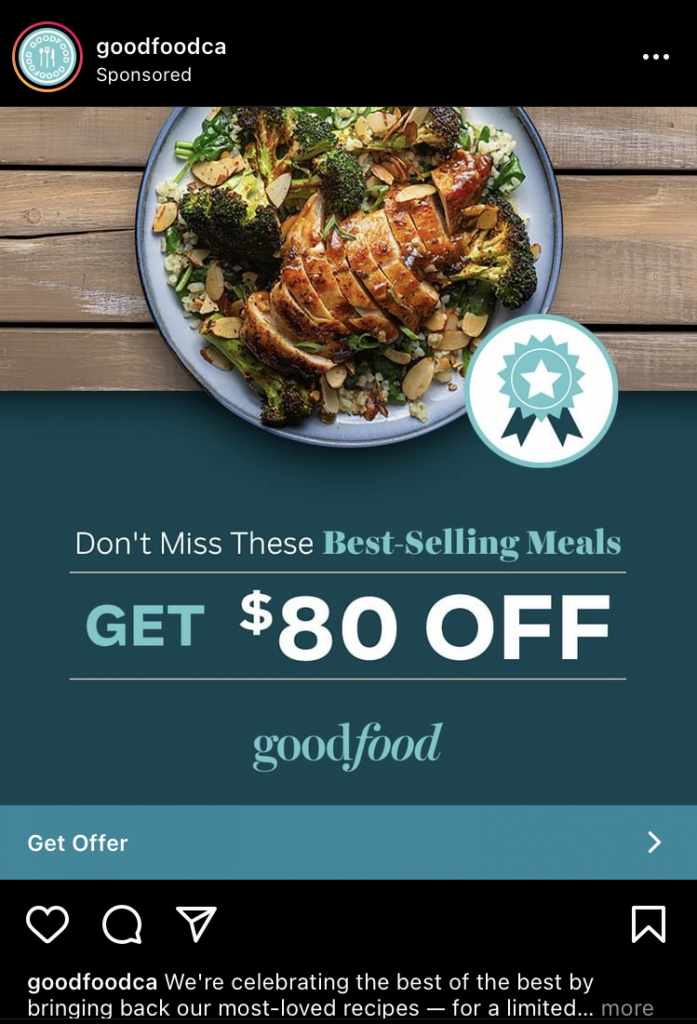 Good Food is giving us a lesson in consistent branding with this great Instagram ad example. Their brand colours include shades of blue and this ad is unmistakably theirs.
They've also included a high value offer, and they've done it by telling customers how much money they'll get off with their order. This is one of the best ways to pull people in because they don't have to guess how much they'll save! Plus, their food looks delicious.
7. Balance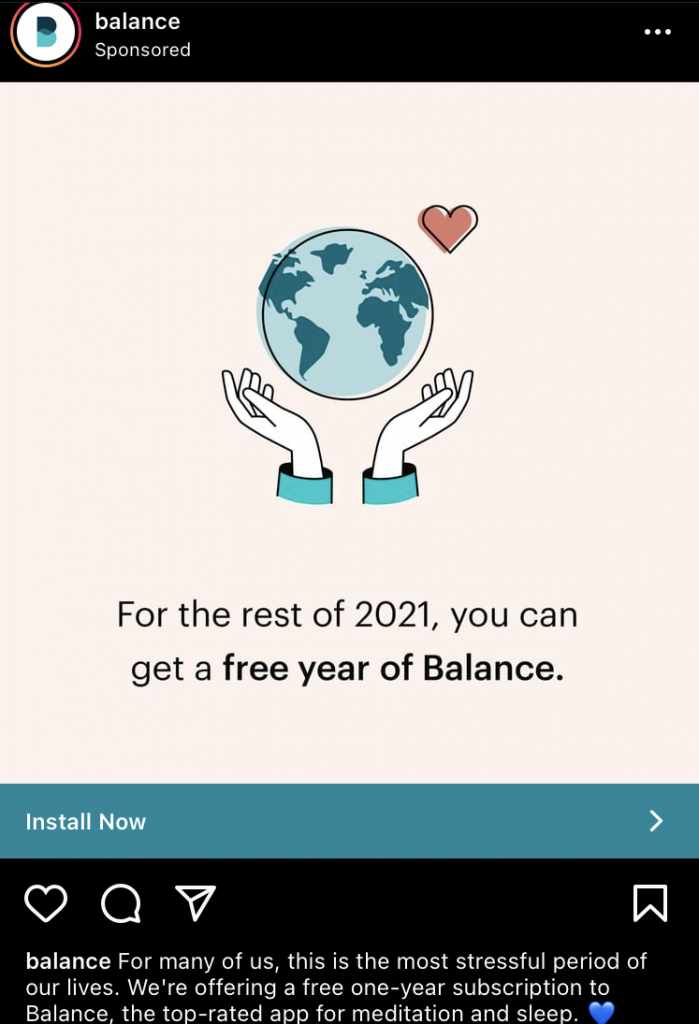 2021 is definitely a good year for a free one-year subscription to a meditation and sleep app, and Balance has seized an amazing marketing opportunity here. This Instagram ad is a great one because it speaks to pretty much all of us right now.
A full year for free is a pretty amazing deal, too. It's the kind of deal that makes you curious to check out the app… because it's free! The customer has nothing to lose.
8. Jenny Bird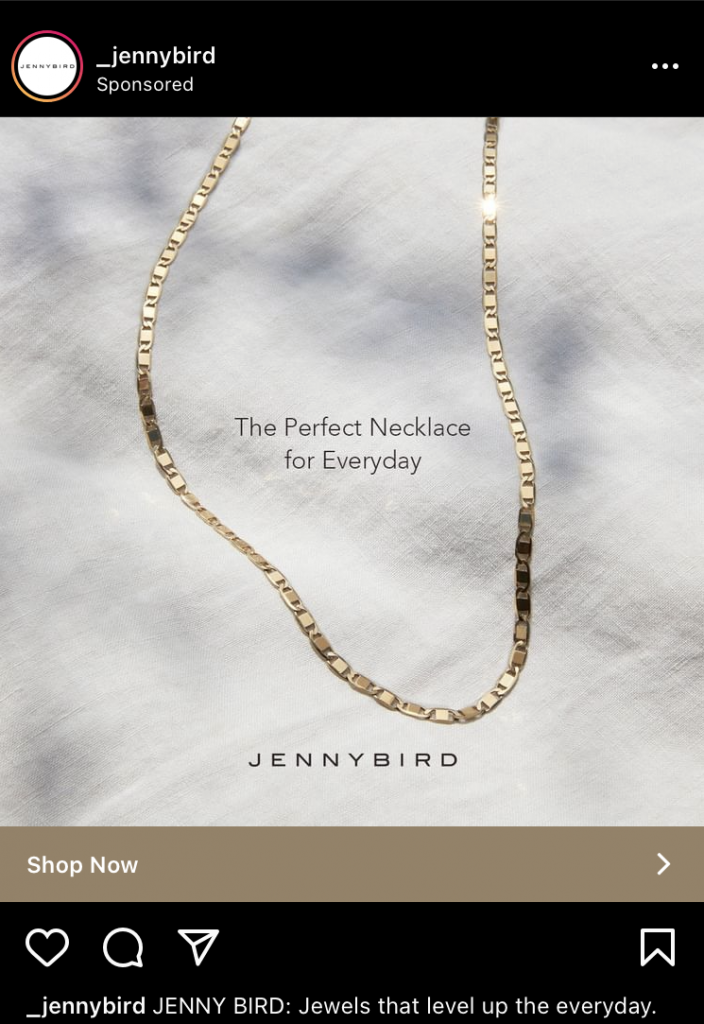 This Instagram ad is super simple, and it works extremely well for Jenny Bird. They've included their logo to help with brand recognition. Because the ad is so simple, it's hard to miss the logo. Additionally, they've kept the colours relatively monotone, so it doesn't distract from the necklace and copy on the image.
As a jewelry brand, it's essential to show off their products in the best light possible. The necklace sparkles in this image and shows customers how shiny it is – synonymous with high quality.
9. SONOS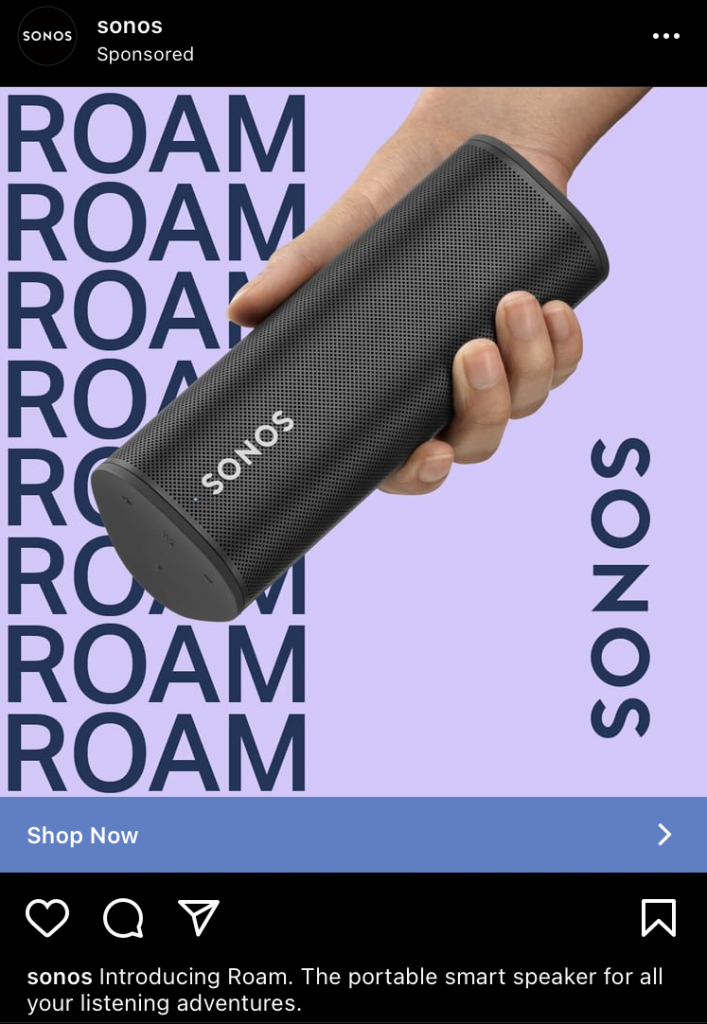 Repetition is an awesome way to communicate the message that you're trying to convey – in SONOS' case, they've done a great job of introducing their new speaker. In addition, they've also used different tones of purple to keep the ad consistent and appealing. Against the purple background, the speaker stands out.
Since their speaker is portable, it was also a great choice to show the product in someone's hand. This way, we can see exactly how portable it is!
10. Pela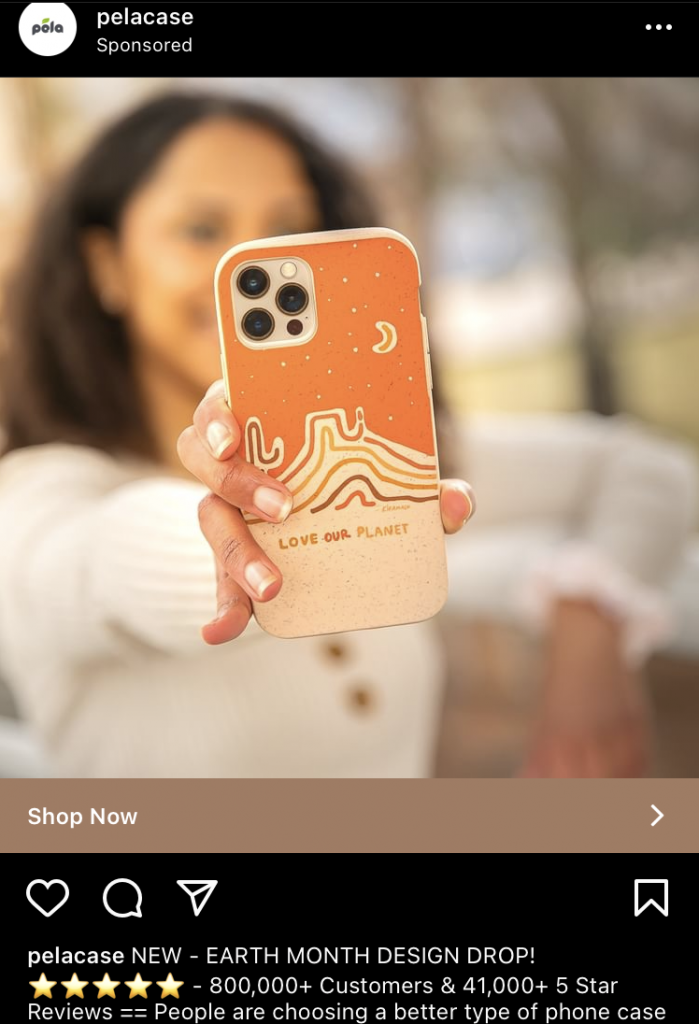 Reviews are a super good way to earn some credibility, so show them off in your ads. It's an especially good technique if you're hoping to reign in some new customers and introduce them to your brand.
Because Pela is such an eco-conscious brand, it makes perfect sense for them to take advantage of Earth Month. Take note of events like this and if they fit with your brand identity, use them as an opportunity to promote a sale or an exclusive design drop.
11. Dawn
Who doesn't love cute little ducklings? Dawn knows that they can tug on some heartstrings with this ad, and it does a great job. Saving wildlife is a project that Dawn has been involved with for years, so the action of the duck being cleaned with Dawn helps strengthen their brand recognition. We love the metaphorical nature of this signature advertising technique of theirs. A soft fluffy duck shows just how gentle their product is.
Additionally, the copy works to strengthen trust and credibility for the brand. Over 40 years of helping save wildlife is a super feat.
12. WebFlow
This ad is super creative, which bodes well for a web design platform. It tells an interesting story, presents an issue in a fun way, and then offers a solution – their services.
The story is metaphorical, which is especially important for customers who may not fully understand web design. This way, customers understand the need for Webflow's services. They've also played with colour in smart way to help illustrate the metaphor. When they show life if it were like web design, colours are subdued and bland. When they show Webflow, colours are vibrant.
13. Calm
Did this ad make you feel calmer? That's the point! This Instagram ad from Calm is great because it shows the product in action by giving you a taste of what their app experience is like. It's almost as if you're getting a free trial of their services.
The copy in the ad is also highly effective. It speaks directly to you and it identifies issues, to which it offers a solution: downloading the app.
14. Leadpages
Leadpage's Instagram ad made the cut for this list because of their smart use of contrast between orange and purple. The purple colour serves two purposes, to stand out in contrast of course, and to reinforce the brand. Leadpage's branding includes purple, so highlighting the call to action in purple strengthens their brand identity.
Another great way to create successful ads is to offer a free resource in return for a lead. Here, Leadpage do that by making a marketing calendar template available for download. People are more apt to give you their information if they feel they're also getting something of value out of it.
15. Hello Fresh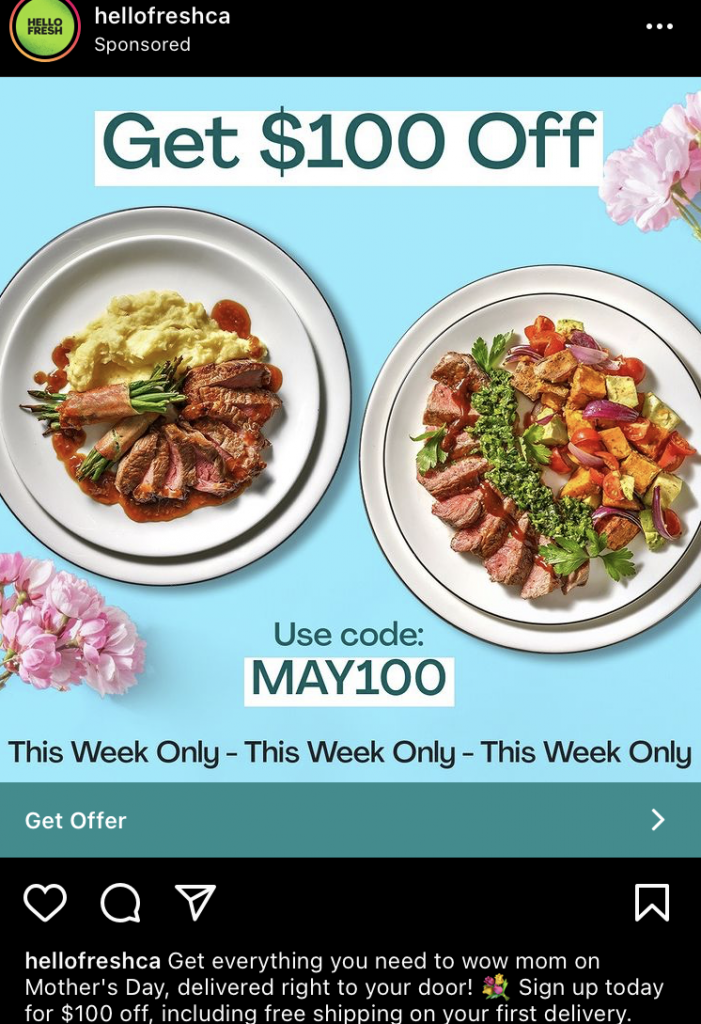 Hello Fresh is advertising a great deal here, and they're doing it in 3 super effective ways. First, they've clearly outlined a high value deal in large, highly visible font. You want to make sure that customers immediately recognize your deal.
Second, they've used a promo code. Promo codes are an awesome way to pull in new customers and give them an exclusive deal that they can only access with your code.
And finally, they've used ad copy to explain the limited-time only nature of the deal. This creates a sense of urgency for the deal, if customers don't act soon, they'll miss out! Using repetition is another great way to hammer the message home.
Go Create Your New Instagram Ad!
Now that you've seen what makes a great Instagram ad, it's time to create your own. Take some tips for the ads above and apply them to your next ads. One of the best ways to stay on top of your ads game is to keep a close eye on what makes ads work for other brands.
And remember, we're always here to help! Get in touch with our team to find out how we can help you reach new heights with your Instagram ads!