Finding your target audience on Facebook can seem daunting, but it doesn't have to be. The goal is to know your audience, and Facebook makes it easier than ever for you to specifically target them.
Surely, you know how huge Facebook is. With just about 2.8 billion active users per month, the multitude of potential audiences on Facebook is enormous.
In order to find your perfect target audience, you'll need to fully understand your own business or brand, as well as the services and products you provide. It's all about understanding the needs of your customers. As a Facebook Ads agency, we at K6 understand exactly how to get the most out of your investment in Facebook Ads. It's what we do every day – and we're here to help.
In this article, we'll start with the basics of Facebook Ads before diving into some of our very best tips for nailing down your target audience. We've also got some great insights into how to use Facebook Ads to your advantage. Read on if you'd like to step up your Facebook Ads game and zero in on your perfect target audience.
Facebook Audiences: The Basics
Before we get into the good stuff, here's a super quick rundown of how Facebook Ads and their audiences work. To get the most out of your investment, you'll need to have a good understanding of how to use Facebook Ads and potential audience types so that you can apply them in the best ways to your target audience.
Facebook is a highly competitive place to advertise because of the huge number of potential audiences using the platform. What's more, Facebook Ads are all over the place – not just on Facebook. You'll see Facebook Ads in various places across Facebook platforms, for example:
Facebook Newsfeed
Instagram Newsfeed
Facebook Marketplace
Video Feeds
Right-hand column
Facebook Messenger inbox
When you run Facebook Ads, you should focus most of your energy on Facebook Newsfeed placements because most of Facebook's ad business is on the newsfeed.
Your ads will be managed in the Facebook Ads Manager. To access this, you're going to need a Facebook Business account. If you have one already, great! If not, you can sign up here.
Inside the Ads Manager, you can set up tracking software. We recommend doing this before you run your first ad campaign because it allows you to see exactly how well (or poorly) your ads are performing. Installing tracking software will give you valuable insights into what works and what doesn't. Read on for more about this later.
Ads Manager is also where you'll set up your audience types. Click on the Audiences tab to see your options. You can read through the different audiences and decide which type works best for your needs.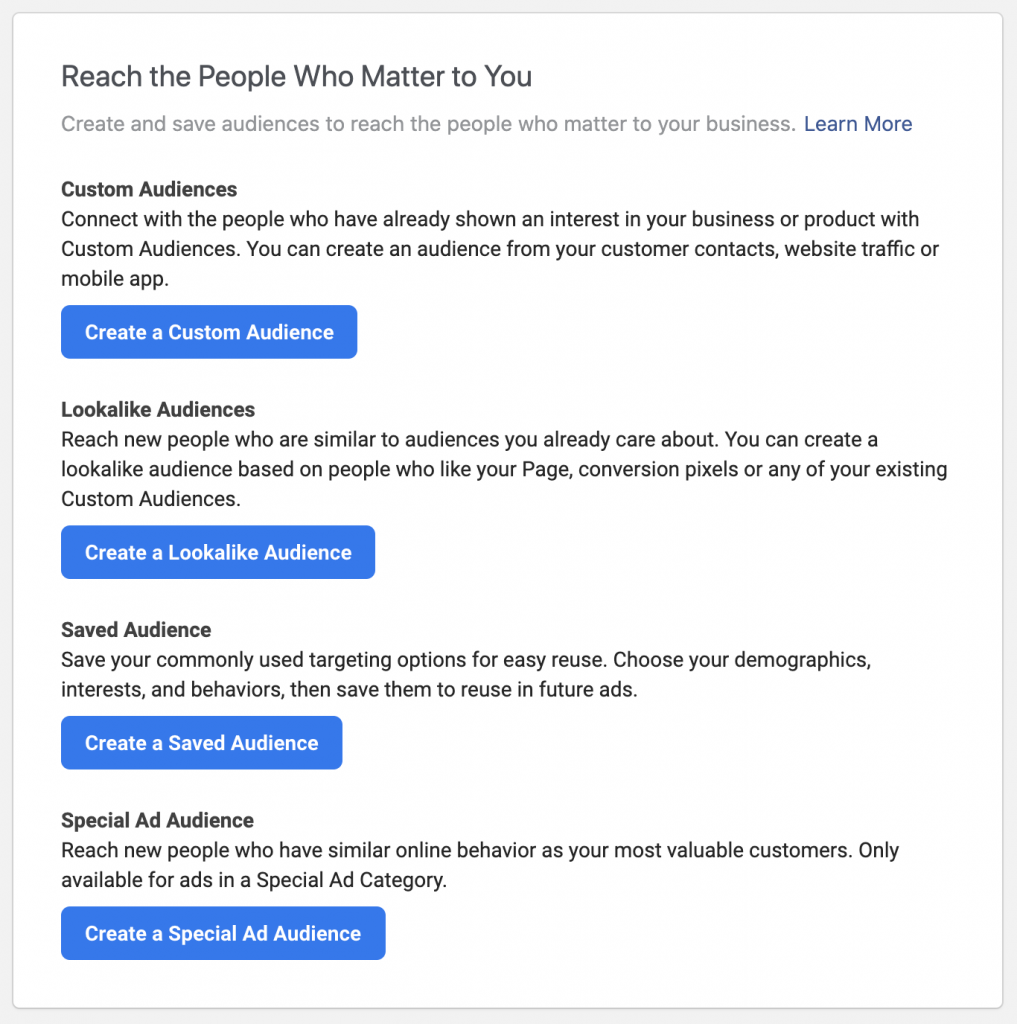 There are 4 different kinds of audiences you can create within the Audience Manager tool:
Custom Audiences
Lookalike Audiences
Saved Audiences
Special Ad Audiences
Facebook allows for difference audience types so that you can target multiple different groups of people with different parameters. Each one is great for different reasons. Let's go into more detail about each type.
Custom Audiences
Custom Audiences are great because they're made up of users who have already interacted with your business on your website or mobile app. This way, you can retarget customers who have already been curious and check out out your content. Retargeting customers is a great way to increase your conversions since you're targeting people who are already familiar (to some degree) with your business. They may have been on the fence and curious about your business, and retargeting will keep you on their mind.
You can target customers based on engagement (visiting your Facebook page, clicking call-to-action buttons, saving posts, sending messages, and more), app activity (purchase events, actions), website traffic, and more.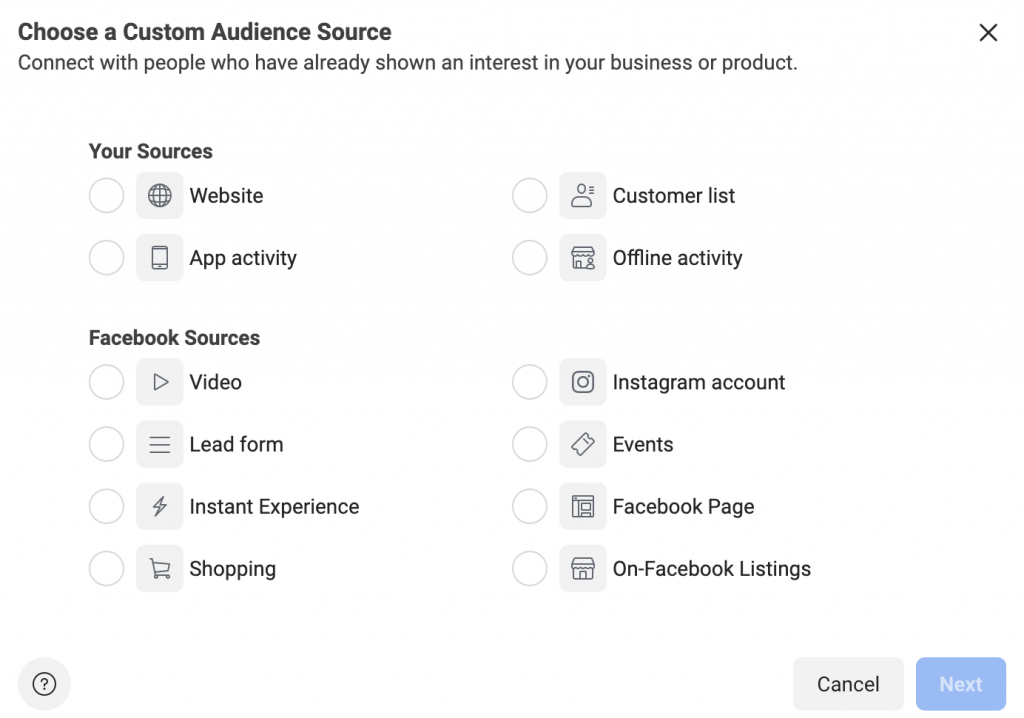 When you choose this audience type, you can select the source of the audience. Facebook will then generate an audience for you based on the contact information from users that come from that source. You can source them from your own website or app, a customer list, or offline activity. You can also choose to have the audience generated from a Facebook source. This includes Instagram, and audiences can be created from many different categories, such as events attended, Facebook pages liked, lead forms, products purchased on Facebook, and much more.
For example, let's say you're looking to target a Custom Audience that is attending a specific event. You can include that event and select People who have responded Going. Additionally, you can add more people. Your audience can include as many events as you'd like to enter.
With tons of different filters, you can completely customize the audience to speak directly to exactly who you want to target.
There are so many different options to choose from when creating a Custom Audience, and we can't possibly cover each one – but we wanted to give you an example of importing customer data from outside of Facebook, too.
Facebook Pixels
To create a Custom Audience with your website as the source, you'll need to create a Facebook pixel for your website.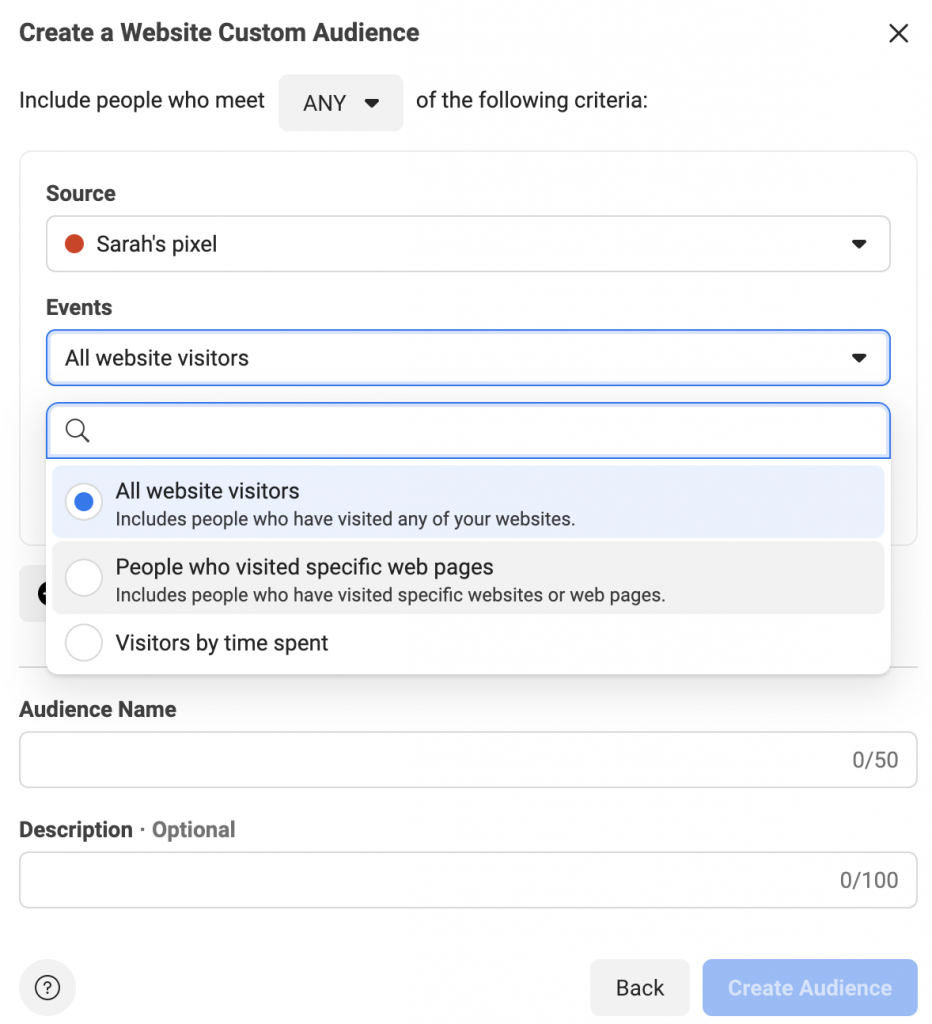 Once you've created your pixel and set your parameters for tracking, you can insert the pixel code into your website's header to begin receiving insights about your audience. You can view your pixel's ID code and more information about it in the Events Manager tab. If you need further instructions, check out Facebook's Pixel setup guide.
Pro tip: if you're working with WordPress, you can install the Pixel Caffeine plugin. It makes it incredibly easy to enter your pixel onto your website.
Lookalike Audiences
Lookalike Audiences are the best way to gain new customers. This is because, as the name suggests, Facebook creates an audience that looks like a Custom Audience of your choosing. It does this by identifying common characteristics and traits between your Custom Audience and the new Lookalike Audience it creates.
This way, you're reaching a new potential customer base who are more likely to interact with your business. In other words, more conversions!
After you've already created at least one Custom Audience, you can use it to create a Lookalike Audience. This tells Facebook the kinds of users you're hoping to connect with. You'll enter the custom audience as your source, then fill in the location, audience size, and percentage of the location's Facebook users that you want to target who are the most similar to your Custom Audience.
And it's that easy to create a Lookalike Audience! Play around with the filters and create a few different ones to make sure you get it right.
Saved Audiences
If you want to be even more specific with who you're targeting, Saved Audiences are another great option. With Saved Audiences, you can narrow users down by location, interest, device, income, age, and more.
Facebook's location-based targeting is super precise. For example, you can target people specifically by location through:
Postal Code
Country
Province/State/Region
County
City
DMA (Designated Market Area)
Address Radius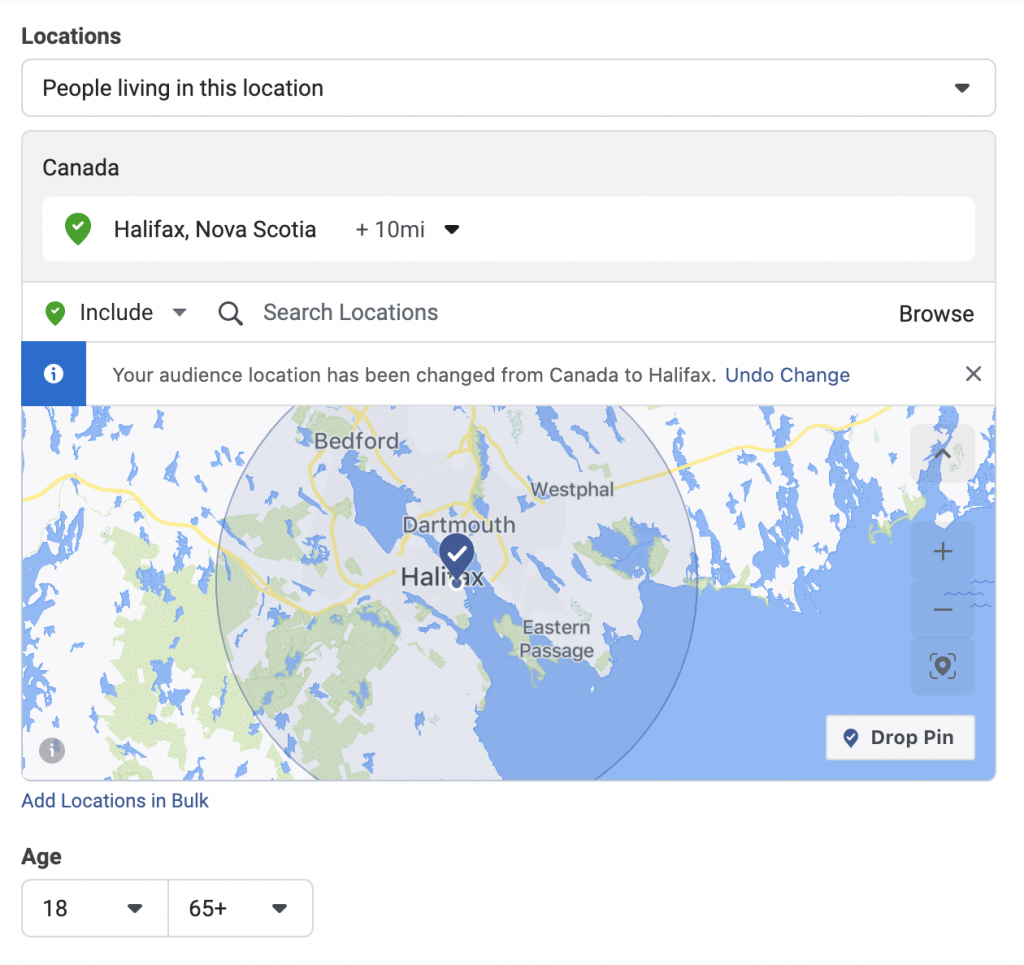 You'll have the option of hyper-targeting based on location, through filters. Choose:
Everyone in this location: This is the default option if you don't know what to choose. It's based on the last updated location of Facebook users.
People who live in this location: This option is based on a Facebook users' profile current location. The IP address also confirms the location.
People recently in this location: Mobile device usage in geographic areas informs this option.
People traveling to this location: This option targets Facebook users who had this location and surrounding areas as a recent location. It must be at least 100 miles away from home.
You can also set parameters for target demographics. There are quite a few options, but the most basic 3 to watch are Age, Gender, and Language. Target a very specific age range, particular genders, and include one or many languages to target using filters while creating your Saved Audience.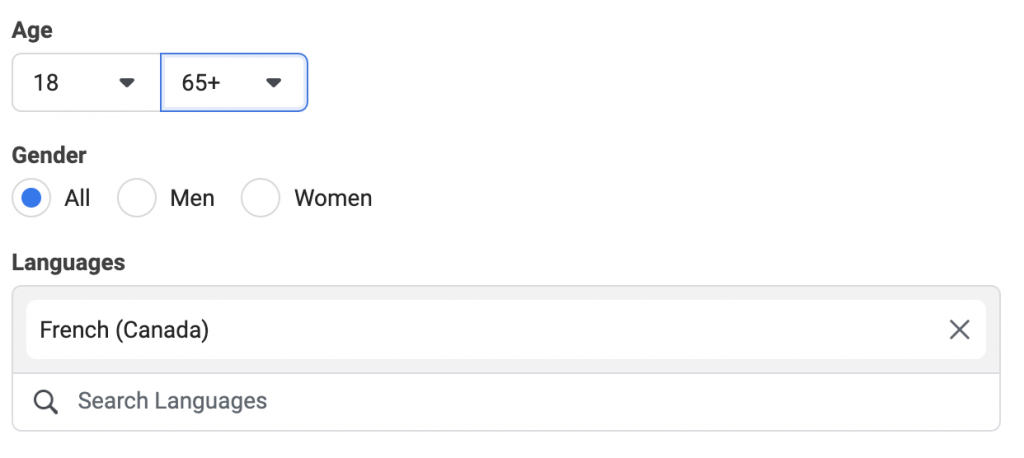 And, if you want to get even more precise, you can target people based on behaviours, education, political views, job titles, life events, and tons more.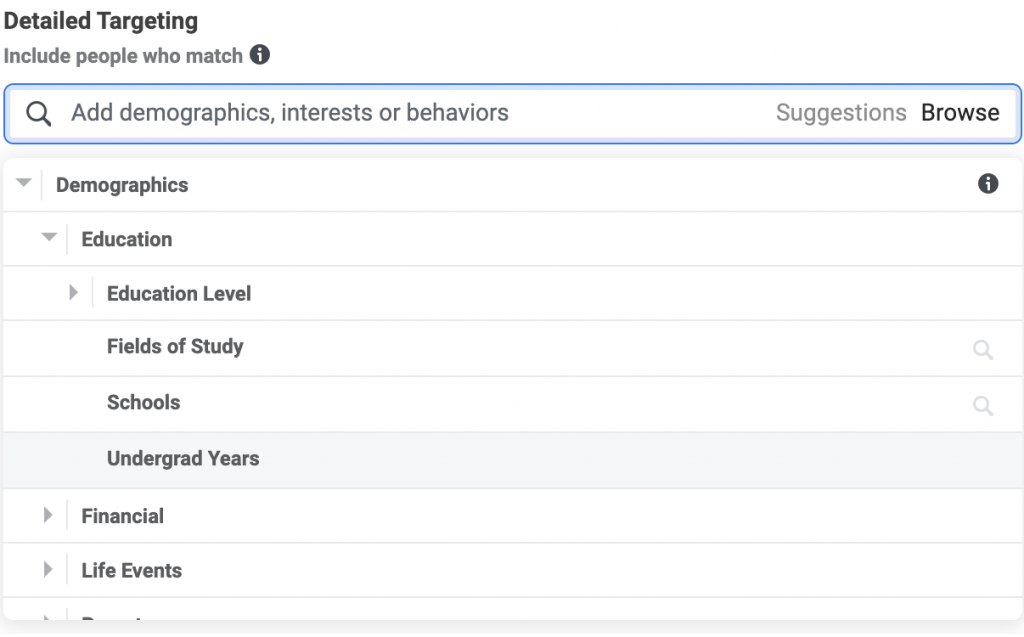 Facebook allows you to set your detailed targeting to include Demographics, Interests, and Behaviours. This is super-specialized and may not be worth your time unless you're looking to hyper-target. When it works, it works super well.
Special Ad Audiences
Special Ad Audiences are only available for specific ad types. You'll have access to them if you're creating ads related to credit, employment, and housing.
Creating them is straightforward if you understand how to create any of the above audiences. They're similar to creating a Lookalike Audience, as they help you reach users with similar behaviours.
Top Tips For Finding Your Target Audience
Now that you know how to create audiences for your Facebook Ads, you need to choose who your target audience exactly is. This is highly specific to your business and there isn't really a clear-cut formula that works for everyone, however, we've compiled some of the best tips to help you nail down your perfect target audience. With a bit of effort, you'll be able to effectively target customers and gain new ones in no time.
1. Use Audience Insights
Facebook Audience Insights is a super powerful tool that should be used in conjunction with Ads Manager. You can access Audience Insights here.
Once you start, you'll be able to choose an audience. Choose from Everyone on Facebook or People connected to your page. Everyone is a good option if you're looking to create a larger audience and look outward and only people connected to your page is a good option if you want additional insights into your current audience.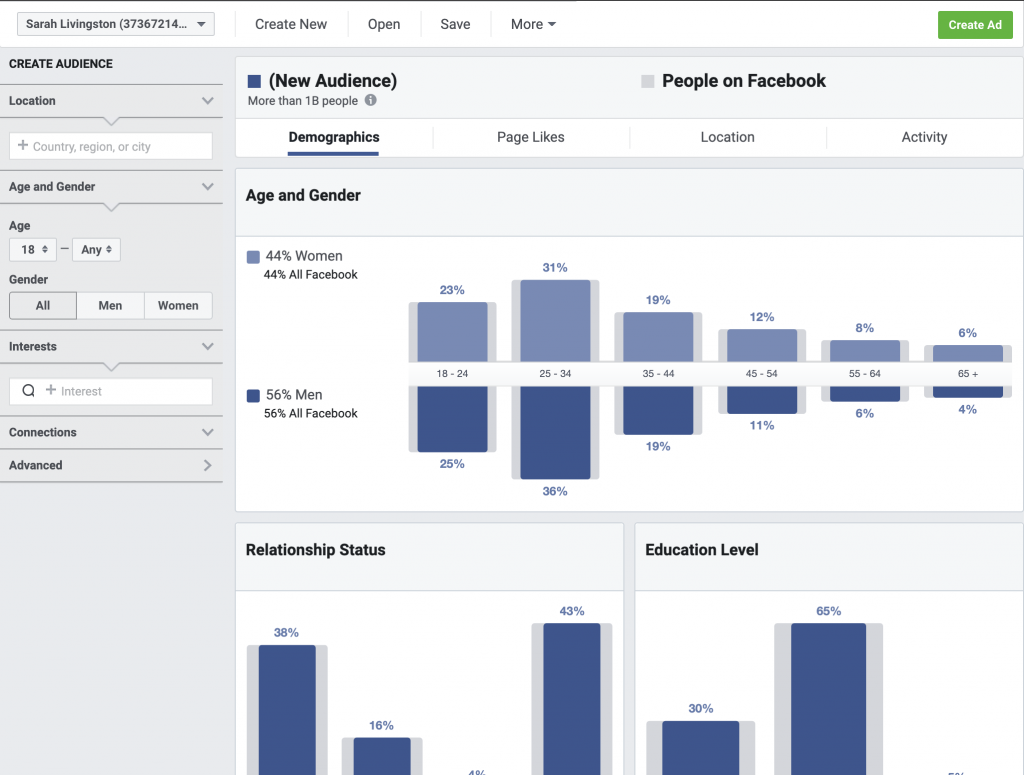 Once you're in, you'll see options to narrow down your audience in the left-hand column. These filters include:
Location (county, region, or city)
Age (ranges from 18-65+)
Gender
Interest
Users who like your Facebook page
Advanced options (these include language, education, employment, parents, relationship status, and more)
These insights can be very valuable in determining your perfect target audience. If you do some digging on here, you'll find out more about your audience and you can use that information to target them with better ads.
When you have an audience filtered down, you should save it. This will not only save the audience to Audience Insights, but it will also save it to your Ads Manager in the Audiences section.
2. Check Affinity Scores
In addition to all of the other great information you can find on Audience Insights, you can also check affinity scores. What is an affinity score, you ask?
An affinity score gives you insight into how likely the audience you're viewing is to like a page compared to the total amount of users on Facebook. So, when you're looking at your audience, knowing the affinity scare for a specific page will tell you how likely they are to like it.
For example, say you're selling yoga products online. You need to know more about your audience. In Audience Insights, you can check the affinity scores for Facebook pages liked by people who are interested in yoga. To do this, under the interest filter, type yoga. Under the page likes tab, you'll see top page categories. Scroll down until you see this:
By studying this information, you can tell that Kayla Itsines is the most relevant Facebook page. This particular audience that you've plugged in is 3x more likely to like that page compared to the rest of the users on Facebook who are not interested in yoga.
This information may not help you every time, but it can come in really handy. When creating an audience profile for your yoga business' ads, you can opt to use the filters to include people who like the Kayla Itsines page.
3. Understand The 3 Audience Characteristics
According to Facebook, there are 3 broad types of audience characteristics that you should understand. Knowing how to use each category can help you identify your audience and also create an ideal persona (more on this in the next tip).
Demographics: Demographics will tell you about the audiences' ages, genders, household incomes, occupations, educations, and locations. You can use this information to specifically target people based on these things.
Interests: This one is a pretty huge category, but it can be helpful to check out who is interested in specific products, topics, and activities.
Behaviours: Users may share behaviours. You can check out who reads certain publications, visits the same websites, or have similar hobbies.
These are, broadly, some of the main characteristics that will make up your target audiences. Additionally, you may have multiple target audiences with different characteristics. It can also be helpful to run some tests to help identify which characteristics you're seeing the most in your audience.
4. Create a Buyer Persona
Maybe you're just starting out and your Facebook page doesn't have quite enough fans yet. You might think you won't be able to create an audience based on this, but don't worry! Now that you understand the 3 broad audience characteristics, you can create a buyer persona to bring in new customers.
Think about your business and what you have to offer. Now, put yourself in a potential customer's shoes. What do they need and expect from your brand? Where are they located? What activities are they interested in? Do they have a specific age range?… We could go on and on with questions. It's helpful to think of the 4 Ws in this case: Who, What, Where, and When – for example:
Who are your customers?
What are their needs? What age are they?
Where are your customers located? Where do they live?
When are they shopping? When do they use your products?
You can use Facebook Audience Insights as a valuable tool here. For example, if your business sells home decor, you can plug in a competitor (such as IKEA) and Facebook will then generate interests, locations, and demographics for customers that like IKEA's Facebook page.
Once you answer those questions and identify interests with Audience Insights, you'll be able to plug them into a saved audience and attract customers based on your ideal buyer persona.
5. Install Tracking Software To Find Your Target Audience
Before you run any ad campaigns, you should install tracking software to help identify your target audience. We mentioned this in the basics section, but let's go into some more detail.
Here are 4 official software that can help bring you some really powerful insights about your customers (and potential customers):
Facebook Pixel codes can be added to your website. A pixel code will track the performance of your ads. This is a good option to see how many people follow your ads through to your website.
Use Facebook SDK to track the performance of your ads within a mobile app.
Facebook Pixel Events allow you to see the actions that people take on your website after they've clicked your ad.
Finally, Facebook SDK Events can be helpful to see the actions that people take on your mobile app after interacting with your ad.
6. Ad Placements Matter
When you're creating your ads, you can choose where to target your ads. Facebook gives you two placement modes: Automatic Placements and Manual Placements.
We recommend, at first, letting Facebook choose your ad placements by selecting Automatic Placements.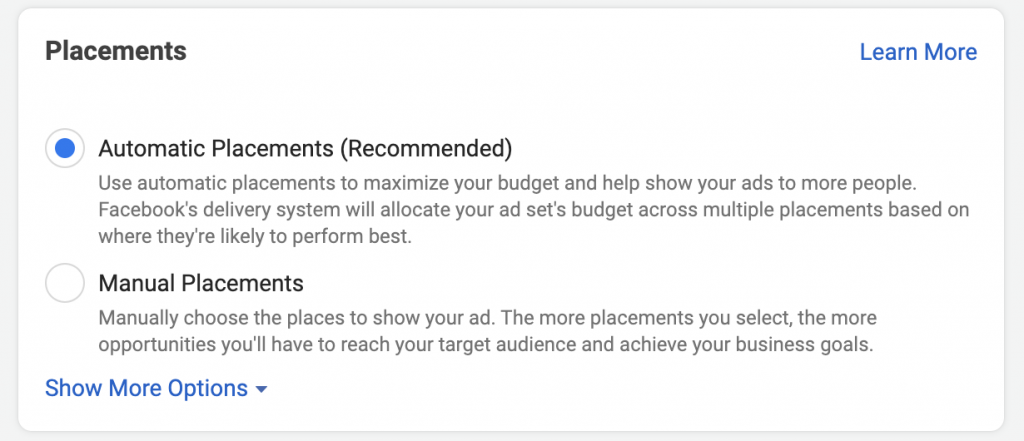 Facebook will then determine what works best for maximum exposure to your audience. In case you're wondering where Facebook might decide to allocate your ads, they'll be divide into these categories:
Stories: Your ads can appear within stories on Facebook, Messenger, and Instagram.
In-Stream: Ads can appear during video content on Facebook. They can be shown at the beginning, end, or in the middle of the video.
Search: You can have your ads shown in the search results on Facebook.
Messages: Inside the Messenger inbox, your ads can appear.
In-Article: Ads can be shown in Facebook Instant Articles.
Apps and Sites: You can choose other placements all across the Facebook Audience Network.
Understanding the different locations for ad placements is important. After a few ad campaigns with automatic placements, you can switch to manual placements based on your best performing placements. Keep a close eye on your placements and how successful each location is. It's a great opportunity to do some testing and find out what works best for you.
Find Your Target Audience
Now it's time to go out and lock down your perfect target audience. Once you identify the key characteristics of the group (or groups) of people that you're looking to target, there's nowhere to go but up.
Facebook has nearly 2 billion active daily users, so it's important to target only the ones who will be interested in your business… and there are many people on Facebook who will be.
With these tips, we're confident you'll hit your stride in no time. But if you're feeling stuck, we can help. Our Facebook Ads agency works tirelessly to help you make the most of Facebook Ads. We're obsessed with seeing amazing results and we can't wait to help you see the same!