You might have heard about dark posts, those mysterious posts you can make on some of the most popular social media channels.
A lot of people wonder what they might be. Are they a path to joining the dark force? Or maybe posts that only the dark force can see?
I wish. Dark posts are simply unpublished page posts that are used for advertising only. They don't appear on your Facebook page's timeline, thus nobody sees them except when they get targeted on their advertising.
The real utility? For us at K6, it's to test as many different Facebook ads creative without overwhelming your fans with 10 posts in the same day.
If you are looking for the ads your competitor is running, look no more. You can now have access to the Facebook ad library which gives you all the ads any page is running at a specific time.
So what's the real difference between Facebook dark posts and ads you might ask. There isn't. A Facebook dark post is an ad, although an ad can also be a normal post.
For your information, dark posts have nothing to do with dark social. While dark social is social media traffic that isn't detected by analytics tools, Facebook dark posts are simply unpublished posts that are used for ads but do not appear on your Facebook page's timeline.
Without joining the dark force, let's dive into the what, when & how of Facebook dark posts. I'll try to convince you of the power of Facebook dark posts, so you can finally join the force.
Why using Facebook dark posts?
You might not be convinced that you need to learn how to leverage Facebook dark posts, but after managing a lot of Facebook ads budget, I can tell you that we create dark posts every single day.
Learning how to leverage Facebook dark posts is essential to run successful Facebook ads. Let me tell you why…
#1 – Infinite A/B testing possibilities
Facebook ads A/B testing for those who don't know is testing multiple versions of a Facebook ad creative. It's key because you never know what will work until you do it.
When using Facebook dark posts, you can finally test multiple versions of your ad without making 15 posts in 30 minutes and annoy your fans.
By testing multiple versions of your ad, you might find one that performs 300x better and I'm not kidding. The difference in performance between your Facebook ad creative wildly varies.
By not A/B testing you are leaving money on the table every single day because your next creative might be the one that returns the most amount of money.
Let's not forget that you could segment your audience and create ads that are more "contextual", more about that at point #5.
#2 – Review it before people see it
You might have a team that creates Facebook dark posts for you or even a marketing agency doing so. The great thing about those so-called Facebook dark posts is that you can create them, make them approve and then run them as advertising.
This is something you can't do with normal page posts that appear on your timeline. Once it's done, you are pretty much screwed because people already saw it. Of course, in that scenario, delete it and repost it, but some damage is already done.
I would also add that you might want to always review a Facebook dark post because you'll be spending actual money on that ad. Having a strong review process in place is key to success.
#3 – Testing as a routine
If you've followed me for a while, you know I'm 100% sure that testing is the pillar of Facebook ads. I've seen some people get amazing Facebook ad success by testing a crazy amount of Facebook ads.
The goal here is not to test anything, but to inspire yourself from what is currently working with other brands and try to reverse engineer it while keeping your brand image intact.
By using Facebook's dark post, you can test, a lot. It's the way the top Facebook advertisers are able to create highly performing Facebook ad campaigns.
#4 – Reduce the number of promotional posts
You don't want your Facebook page to look a spammy promotional machine. This would most likely get people to hide your posts and never hear from you again.
For instance, we wouldn't want the ad for our client below to appear on their Facebook page, because it's a retargeting ad.
I think this reason for using Facebook dark posts is pretty clear. In fact, just for that reason alone, you should use dark posts for all your advertising.
Facebook ads post and Facebook page posts should be different because they have different strategies behind.
The goal of a Facebook page post is to gain visibility since your targeting options are greatly reduced. The goal of a Facebook ad can be pretty much anything in the journey of your customer.
#5 – More contextual advertising
I know you've been waiting for that point. As you probably guessed, being able to A/B test your Facebook creatives also means you can A/B test the audiences you target with Facebook ads.
By being able to create unlimited Facebook dark posts without annoying your Facebook pages fans, you can create ads based on segments of your audience. This would give your ads an edge by seemingly being more personalized.
For example, our client at K6, Trylon, has 3 main types of customers: corporations, travelers & students.
We can segment those audiences and create advertising that caters to them specifically instead of pooling all those audiences together with one-page post visual as an ad.
How to create a Facebook dark post?
There are multiple ways to create Facebook dark posts. You can either create them in the ads manager or from the page posts section, but either way, you'll need a business manager account.
If you don't already have a business manager account then you'll need to create one. Head over to business.facebook.com and create your first ad account, link your Facebook page and enter your credit card info.
Let's start with creating Facebook dark posts through the ads manager.
Step #1 – You first need to click on the create a campaign button.
#1 – Head over to your business manager and go inside your account.
#2 – Go in the menu on the top left and select "ads manager".
#3 – After that, you just need to click on the green "create" button at the left of your screen.
#4 – Then, you need to fill out the campaign name, the daily budget, the ad set name and the ad name.
The important thing here is just to make sure you remember what your names mean compared to your other campaigns, ad sets and ad names.
#5 – After clicking save to draft, you'll be prompted to edit the "ad", click on that.
#6 – After that, you have multiple ad formats you can create such as video, image, carousel, or even Facebook instant experience.
And here you go, you now have a Facebook dark post!
Hot tip: if you want to use the same ad with the likes, comments, and shares you accumulated, there's a way to do it. If you created it from the "Page Post" section, you can just go there and grab the ID from the post.
You just need to grab that code and insert it inside the ad in question by selecting first "use existing post".
You'll then have the option of selecting the post in question by either copy-pasting the ID number or
Here's how to create Facebook dark posts through the Page Post section.
Step #1 – Login into your Facebook business manager.
Step #2 – Select "Page Post" in the top left corner's menu.
Finally, you'll have in front of you multiple posts formats such as carousel, image, video, link and so on.
After you've chosen the right creative and clicked on create a post, you'll finally have a Facebook dark post. Congrats!
Do dark posts exist anywhere else?
Yes, dark posts exist on almost any platform that allows pages to run advertising. Those include Instagram, Twitter & Linkedin.
All these platforms do use dark posts in different ways and it's why all social media managers should be well aware of the differences. In my opinion, it's a minimum.
What are dark posts on Twitter?
Although Twitter has never called their unpublished posts "dark posts", they do have "promoted-only tweets" that do not show up on your Twitter's page timeline.
These tweets only show in the feeds of the audiences that you target. On the flip side, regular promoted tweets appear on your timeline, your followers feeds and the feed of the audience you targeted.
These promoted-only tweets will appear as normal tweets with the mention "Promoted by the name of your brand", but users can still share, like, retweet or reply like any normal tweet.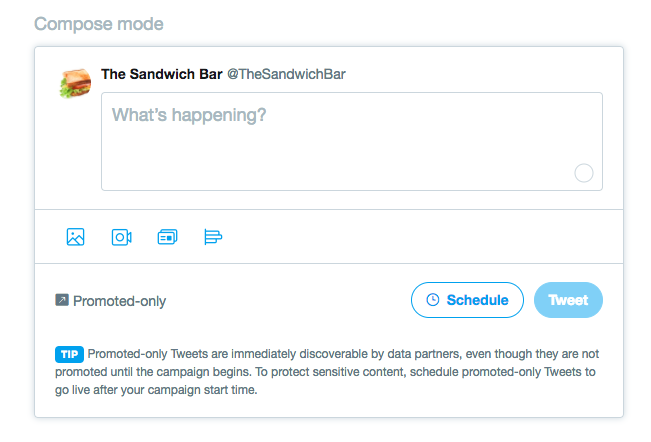 So where do you even start running Twitter ads? Well, you need to go to business.twitter.com where you will be able to create your ad campaign inside the campaign creator or compose mode.
If you wish to focus on the compose mode, you just have to select "promoted tweet only" at the bottom of your tweet for it to be a dark post.
What are dark posts on Instagram?
Instagram's dark posts really resemble Facebook's one. You can boost a post from your Instagram page, but any other ad you create with certain objectives will have to be done as a dark post.
Dark posts will appear on your target audience's timeline with the tag "promoted" at the top left with a call-to-action leading somewhere else at the bottom.
Here's an example of what an Instagram dark post looks like:
Since Instagram ads are created from the Facebook business manager as a "placement" option, you can have multiple formats. Those include:
Carousel of images or videos
Single image
Single video
You also have a wide variety of options when it comes to targeting. Here are a few examples:
Age
Gender
Interests
Job titles
Facebook page owner
Frequent buyer
How you create them is the same process as the Facebook ads, although you have to do it from the Facebook ads manager and can't do it from the page post section.
What are dark posts on Linkedin?
Dark posts on Linkedin are called "Direct Sponsored Content". Of course, these posts do not appear on your company page and do not require you to make a Company update.
On the contrary, Sponsored Content on Linkedin appears both on your Company Page and the feed of your followers.
When it comes to targeting, Direct sponsored content options are quite aphrodisiac for B2B companies since Linkedin has so much information on individuals. You can target based on:
Industry
Field of study
Age
Job title
Years of experience
Here's a picture with some of the targeting options on Linkedin.
You can also create what Facebook & Instagram advertisers call "lookalike audiences", as audience matching. This audience is essentially an audience that looks like your customers or lead audience.
What you need to do is head to Linkedin's campaign manager, to then select an account and create a campaign where you'll have 6 format options.
You can then select "create new sponsored content and add your image, video, text and links to the content you wish to promote.
Will Facebook dark posts keep existing?
In my opinion (and the K6 team), they will. With Facebook giving access to all advertisers to the ads running on the page, I think we can say that if people want to see your ads they can, but these posts still don't appear on your Facebook page's timeline.
For this reason, dark posts are here to stay. They are essential because people looking at a Facebook page won't appreciate that page being overly promotional. There has to be a distinction between advertising and brand image.