In early 2020s, Covid-19 transformed the way B2B sales operate globally. As a result, B2B e-commerce witnessed a significant rise, with many sales models shifting from traditional to digital. In this scenario, it becomes essential to choose the right eCommerce platform for B2B that caters to your business's specific needs and challenges.
This guide provides insights into the best e-commerce platforms for B2B businesses and the most significant features and factors to consider while selecting an e-commerce platform.
B2B e-commerce: What is it?
B2B e-commerce refers to the practice of conducting business transactions between businesses through digital spaces. It includes techniques and strategies that facilitate B2B selling and buying.
Why Do You Need a Specific e-commerce Platform for B2B Businesses?
B2B e-commerce platforms are more complicated than B2C platforms, with specific features needed. This is because, unlike B2C relationships, which are usually only one-on-one transactions between businesses and customers, B2B companies have to treat each business/customer differently. B2B buying intent demands different e-commerce features such as bulk orders, volume discounts, and more.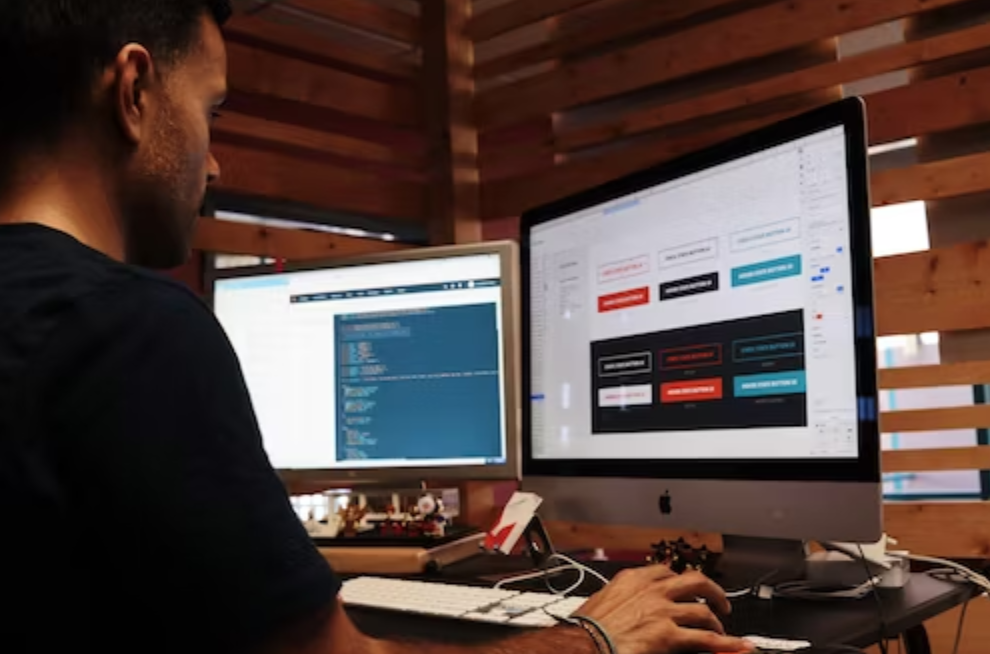 Successful B2B e-commerce Examples
To get a better idea of what makes a successful B2B e-commerce platform, let's take a look at some examples:
Bulkbookstore: Bulkbookstore is the best place to buy books online. You know they're reliable, with over 35,000 school, business, and non-profit organizations using them for their reading copies. And with their attractive deals and discounts, you can rest easy knowing that your money is well-spent.
Poly.com: Poly is a long-established supplier of audio and video products for meetings and conferences.
Neil Armstrong used their headsets on the moon, and they claim that 100% of Fortune 500 companies trust their product services. Poly has an admirable B2B website with a professional branding look and a comprehensive product page. Each product page is well visualized with photos, making them look like attractive home pages or catalog pages. Detailed product information is included with a video overview and datasheet.
Poly is an audio/video supplier and an equipment manufacturer. They have been in business for over 30 years, providing high-quality products for many industries, such as education, healthcare, corporate entertainment, and sports events.
Obramax.com: Obramax is the leading wholesale supplier of construction materials in Brazil. They've been using Magento 2 to enhance their online experience since 2018, and they're seeing incredible results.
Their B2B/B2C e-commerce platform has a transparent pricing system that indicates prices based on purchasing volume, so customers can quickly see how much they'll pay for each product. Plus, an omnichannel credit line promotes sales across all channels. Since the platform's launch in 2016, online sales have made up 30% of total sales with over 21,000+ online customers.
Features and Factors to Consider While Choosing an e-commerce Platform for B2B
Incredible Customer Experience: Whether you're a B2B business or a consumer-facing brand, the more enjoyably your customers shop, the more sales you get. Delivering the best customer experience is a challenge and a chance for B2B businesses.
Why is that?
Well, because there are no consumer reviews in your industry. Your customers will write about something other than how much they love your product or how easy it was to set up their account with you. So, how do you make sure they feel appreciated?
You have to create something that makes them want to tell someone about it—something that makes them feel so good about their experience with you that they can't stop talking about it.
Custom Informational Pages: If you're looking to build trust with your buyers, informational Pages can help.
Informational Pages are some of the most important pages in your website. They're all about helping buyers develop a sense of trust in you and your company, which is crucial for B2B businesses that often include big purchases and long-term partnerships.
Informational Pages include your company profile, shipping information FAQ, and more—all helpful information that helps buyers get to know you better and feel they can rely on you.
Inventory Management System: If you're an e-commerce business, managing your stock levels is a must. But if you're a B2B business with extensive inventories, bulk orders, and complicated customer tiers? Well… that just makes it more essential.
Security: Cyber attacks are the worst. They're not just an inconvenience—they can have serious consequences for your company, including lost revenue and even damaged brand reputation.
That's why it's so important to keep your website secure. When you build trust through security, you prevent cyber attacks and help improve your SEO ranking. As a B2B business, you keep business-level payment information on your site, which is a top concern when it comes to security.
Omni-Channel:E-commerce Omni-Channel? It's the future of e-commerce.
You see, it's not enough to have a great website. You also need to be able to sell in person, on your phone, through social media—all at once. That's why we're excited about E-commerce Omni-Channel: it's the unified experience across all sales channels, including online stores, brick-and-mortar stores (with POS integration), sales representatives, and more.
It's the future of e-commerce, increasing sales on all battlefields and improving overall customer experience.
Mobile-Friendly: Do you know what's hot right now? Mobile!
Mobile is the way to go in this day and age, with people mostly shopping on their phones. So if you want to stay relevant and keep up with the times, it's essential that your website is mobile-friendly.
Digital Payment: In the past, B2B businesses relied on paper checks for payment. But now that digitalization has taken over, credit cards, PayPal, bank transfers and more have become the new norm for business-to-business transactions.
ERP Integration:What if you could have all your business processes, from accounting to inventory management, in one place?
Enterprise Resource Planning (ERP) is the answer. It's a way of unifying all-important business aspects under one roof, so you don't have to worry about data consistency or keeping track of important information. You can spend more time doing what matters: Growing your business and providing excellent customer service.
Specialized Features for B2B Platforms
B2B Customer Portal: Automates the buying process while giving merchants sufficient information and control to place an order by themselves.
Personalization: B2B pricing is complicated and dependent on several factors, making it essential to personalize the pricing for each customer segment.
Bulk Orders, Volume Pricing, and Minimum & Maximum Thresholds: Quantity-based pricing, bulk orders, min, and max thresholds set B2B pricing apart from B2C ones.
Ways to Choose a Suitable e-commerce Platform for Your B2B
Businesses
Here are some methods to consider while choosing a suitable e-commerce platform for B2B businesses:
Evaluate Your Business Needs: Analyze what your B2B business needs, the features you require in an e-commerce platform, and the complexity of your business model.
Beta Test: Before selecting an e-commerce platform, you can beta test it with your current suppliers or buyers to gauge its performance.
Consider Integration: Consider factors like ERP Integration, payment gateway compatibility, and API support before choosing a platform.
In summary
The e-commerce platform for B2B businesses must cater to the business's specific needs while providing an enjoyable shopping experience to the buyer. By selecting the right platform, companies can improve their customer experience and streamline their purchasing process, leading to increased sales and revenue for the business.