Technology is at the center of everything we do in business. Human Resources is no exception. In this article, we are discussing seven ways to help you leverage technology in your HR department. The goal is simple – make your HR department more efficient and performant.
1. HR: streamline your recruitment process
One of the most important aspect of HR success is recruiting and onboarding new employees. With modern HR management software, you can automate the majority of this process.
For example, some software programs allow you to create job postings that automatically go on various job boards, as well as track applicant progress through the hiring pipeline. This will save you a lot of time and energy in your daily routine – making hiring an enjoyable activity.
2. Cloud-based systems for data storage
Another way to leverage technology in your HR department is by using cloud-based systems such as accounting software which has balance sheet template to make the work more easy to organize. Cloud-based systems have become extremely popular over the past decade or so due to their low cost and convenience.
They also help reduce the risk of data loss or theft, which can be especially important for businesses that handle sensitive employee information or financial data. For instance, many companies use cloud-based platforms to store employee health information and payroll data.
3. Analytics to gain insights in your workforce
In order to operate an effective human resources department, it's crucial to have a good understanding of what is happening in your workplace. Analytics are invaluable to help you gain insights, as they allow you to track performance and create detailed reports on demand.
Some popular analytical softwares include simple dashboards like Google Data Studio and more robust HR management systems like BambooHR. By supplementing your analytics data with other HR software, such as a performance management app or applicant tracking system, you can gain even deeper insights into what is happening in your workplace. The end goal is to help you make much better decisions in a quicker and more efficient way!
4. Video conferencing
More and more businesses today are working remotely, sometimes with people from different locations. In that case, video conferencing is a necessity to keep everyone connected despite the distance.
Whether you are holding simple meetings or participating in training, video conferencing is the most efficient and convenient way to stay in touch. You can use apps like Google Meet and Zoom instead of buying a plane ticket for everyone.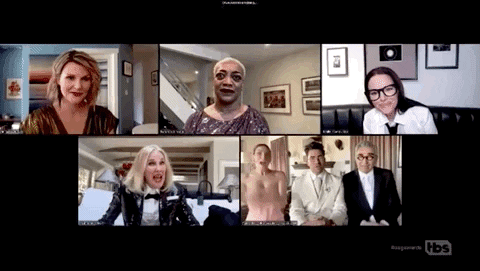 5. Social media: share company news & updates
Social media and alumni management software have become a central part of the way we communicate online. In fact, a lot of companies are very active on these platforms to recruit new employees and build their culture. If used correctly, there's no better place to attract new candidates to grow your organization.
Social media also helps companies cement their culture by showing their true colors and attracting the right candidates. Beyond recruiting, your brand can share product launches & important updates to get more customers.
6. Chatbots: improve employee engagement
Chatbots can be very effective to increase the engagement of your internal team. By creating automatic responses, you can answer your employees most pressing questions without the need to be present. For instance, businesses use chatbots to automate customer service or provide support to employees.
Furthermore, you can streamline your processes and ensure that all employees have easy access to the information they need. This will allow to keep up with the activity inside your organization while not slowing down the speed of execution of your team.
7. Peer-to-peer messaging: communicate internally
Your employees need to be able to ask questions quickly and chatbots don't always have the answer. It's why we recommend using an internal communication tool like Slack or Teams. You can even share important company updates or set up quick meetings without going through an endless feed of emails.
For instance, an employee might want another person's feedback for a design. Instead of sending an email, he can send a message and get a reply within a few minutes.